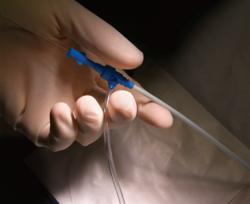 On the balloon portion where the stent is crimped on, a slippery coating would be detrimental
Natick, MA (PRWEB) June 26, 2012
Medi-Solve Coatings, a leading manufacturer of very lubricious, hydrophilic coatings for the medical device industry, has developed a unique way to mask a medical device during the coating process. Catheters and guidewires are typically coated at the end of the device manufacturing process. Sometimes, only a portion of the device requires a highly lubricious coating. For example, on a stent delivery catheter, the distal tip and catheter shaft would have a hydrophilic coating to help the catheter track. "On the balloon portion where the stent is crimped on, a slippery coating would be detrimental." According to Ron Sahatjian, Chief Technology Officer for Medi-Solve.
Medi-Solve's novel masking material and process enables manufacturers to preferentially coat finished devices. With this unique material, the coating can be applied while the balloon is in its final, folded state. This offers process flexibility while saving time and money. For more information visit http://www.medisolvecoatings.com .
About Medi-Solve Coatings
Medi-Solve Coatings (http://www.medisolvecoatings.com) is a leading provider of hydrophilic, hydrophobic and lubricious coatings focusing on medical device and biomedical applications. As highly regarded coatings experts, with over 40 years of industry experience, Medi-Solve Coatings uses its in-depth understanding of medical device requirements to develop innovative solutions for its customers. Medi-Solve Coatings is dedicated to assisting customers from product design through commercial scale manufacturing.
Medi-Solve Coatings is a Katahdin Company. Katahdin Industries, Inc. (http://www.katahdin-inc.com) provides high tolerance coating applications and specialized metal finishing technology and services to the medical device and highly engineered components markets through platform-focused subsidiaries. Katahdin's coating operations are conducted through Precision Coating Company, Inc., one of the largest medical device coating applicators in the world, specializing in Teflon® coating applications. A separate co-located company, Precision Fabric, is a worldwide distributor and converter of Teflon® coated fabrics, tapes and belts. Specialized metal finishing services are conducted through DCHN, LLC, an industry leader in technical aluminum and titanium anodizing, electro-polish and passivation, and other related services. Sanford Process Corporation provides hard coat anodizing solutions and intellectual property to a range of well-known OEMs and their prime subcontractors worldwide, with an increasing presence in Korea and China.