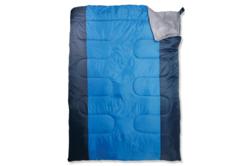 "With the great festivals happening soon and other camping activities to be had now that summer has arrived, we want our customers to get the best value for outdoor gear that won't let them down when it comes to comfort."
(PRWEB UK) 20 June 2012
As people get excited about outdoor activities now that summer is here, leading suppliers such as sleepingbagsuits.co.uk are making life easier by offering affordable, high quality products that cover all the practical necessities.
Some of the must-have items which couples will be keen to have while enjoying the music festival scene over the next three months are double sleeping bags.
Not only do they offer the latest technology in light-weight yet surprisingly robust insulating materials to keep out the cold, double sleeping bags have the added bonus of allowing couples to cosy up together as normal.
Currently, sleepingbagsuits.co.uk is offering three models of double sleeping bags, and they have all seen price reductions for the summer:
The Hebog 200 features a trendy 2012 design in two shades of blue. It features a lighter exterior fabric which cuts its weight by 200g to allow for compact packing without compromising on comfort. Unrolled it measures 210cm x 160cm – this means both people will be able to move freely when sleeping. Online shoppers can now get their hands on one of these exclusive double sleeping bags for only £44.99.
The Sleepline 300 is nearly half the price of the Hebog at £26.99 – perfect for couples who want a reliable double sleeping bag but don't want to spend a fortune. Unrolled the item measures 190cm x 140cm, and has a comfort range of between 15°C and 5°C. The Sleepline has the added benefit of being designed with practicality in mind, as it can also be fully opened up for use as a picnic blanket.
The Atlanta sleeping bag stands out for being highly versatile in that it can be unzipped as a double to form two separate sleeping bags. Thus is can be used time and again by couples on a trip or when single guests stay the night. Both sleeping bags together weigh just 6.5lbs, and separate they can be rolled into extremely compact units. In addition to their comfortable duvet style look and feel, each sleeping bag has a convenient inner pocket, an anti-snag guard and an autolock feature to keep the zip in place.
With many excellent bands to see at festivals across Britain and Europe this summer, double sleeping bags will be just the ticket for couples.
In terms of additional extras that will be needed when taking an outdoor trip, sleepingbagsuits.co.uk is also offering camping bundles that provide a number of essentials at a single reduced price. These include a tent along with two sleeping bags at only £49.99 and a bundle of two body sleeping bags (Musuc Bag) combined with a BBQ and kettle.
Director of sleepingbagsuits.co.uk, Simon Ambler, commented: "With the great festivals happening soon and other camping activities to be had now that summer has arrived, we want our customers to get the best value for outdoor gear that won't let them down when it comes to comfort."