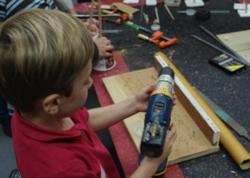 When we empower kids to put scientific principles into practice in a hands-on way, they can truly explore science and understand how it works.
San Mateo, CA (PRWEB) June 20, 2012
This summer at CuriOdyssey, curious kids are getting up close with animals, exploring the outdoors, and designing, building, and creating complex machines in the spirit of physics and engineering.
This week, Camp CuriOdyssey began its first sessions of the summer. Camps will run 10 weeks and will cover a variety of themes. This year's newest addition, Rube Goldberg Tinkering camp, will join favorite camps from years past, like Gadgets and Gizmos camp and Earth Explorers camp.
For children who like tinkering, or for those who are just enthusiastic about science, CuriOdyssey's Rube Goldberg Tinkering camp is a fun and challenging way to learn about physics and engineering in a hands-on way.
In Rube Goldberg camp, fifth- and sixth-graders will each build a Rube Goldberg machine that uses whimsical steps to complete a simple task. Campers will be given the tools they need to make their own fantastic creation. They'll work together in small groups and learn how to make and use levers, pulleys, marble runs, and hydraulics with the goal of designing and building their own Rube Goldberg machine. Campers will also learn the safe and proper way to use and handle power tools.
"We've found that when campers are in control and direct their own experiences, they feel a sense of ownership over what they're doing," said Carl Oosterman, Director of Education. "When we empower kids to put scientific principles into practice in a hands-on way, they can truly explore science and understand how it works."
The topic of this camp is particularly timely, as it falls in line with the spirit of the "Maker" and tinkering movement that has been growing in popularity each year. This interest is fueled by the San Francisco Bay Area's own Maker Faire and the increased popularity of "hackerspaces" - community-operated spaces where people meet to work on projects. The hands-on, do-it-yourself ethos is one with which CuriOdyssey strongly associates, and its camps, education programs, and exhibits all support that mindset.
CuriOdyssey's Rube Goldberg Tinkering camp will begin on Monday, July 16. While this camp is full, there are other camps with a few spots available. For the past three years CuriOdyssey's camps have filled up quickly, and this year they were 95% full within the first week of registration. For more information about Rube Goldberg Tinkering camp and all of the CuriOdyssey's other camps, please visit the CuriOdyssey camp webpage.
About CuriOdyssey
CuriOdyssey is a science center for children that incorporates the foundations of the former Coyote Point Museum, but with a new vision. The science center offers children a comprehensive introduction to the sciences. Our interactive exhibits, exciting wildlife encounters, and engaging science education programs give children authentic learning experiences that help develop an appreciation of the role of science in our lives. We provide the tools and experiences for children to get up close with the natural world and discover the fundamentals of physics, chemistry, biology, and geology by engaging them directly with scientific phenomena – animals, air, sound, water, plants, magnetism, and more. Through such interactions, we help to educate and inspire future leaders and innovators. CuriOdyssey is located in Coyote Point Recreation Area in San Mateo, California. For more information, visit http://www.CuriOdyssey.org.