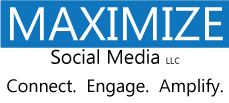 "...maintaining an active presence on Google + is no longer an option, it's now a necessity for small businesses to remain competitive" said Craig Collins, Senior VP of Maximize Social Media
Los Angeles, CA (PRWEB) June 19, 2012
Social media marketing firm Maximize Social Media LLC announced its small business listing optimization service today, providing online marketing support to small businesses worldwide. The firm will offer business listing optimization services to businesses that are looking to improve their online visibility and generate qualified local leads. The service will include Google + design, turnkey moderation, keyword optimization, as well as several other strategies that will generate qualified business.
"Given the recent announcement by Google to merge Google Places and Google + Local, maintaining an active presence on Google + is no longer an option, it's now a necessity for small businesses to remain competitive. Additionally, the convergence of social media and search means that social signals are now - and will continue to be - a critical factor in local business listing optimization" said Craig Collins, Senior VP of Maximize Social Media.
Maximize will also offer full service social media management to include Facebook, Twitter, Pinterest, and LinkedIn. The firm specializes in creating communities of targeted prospects on each of the top social media platforms, cultivating relationships within the community, and converting fans & followers into paying clients. Additionally, the firm manages Facebook PPC advertising campaigns to generate brand recognition while also growing targeted lists of prospects for small businesses.
Maximize Social Media provides full social media management and business listing optimization services in over 40 different verticals to businesses around the world. The firm will fully integrate all aspects of social media for small businesses that will find it more cost effective to outsource the online marketing rather than hire additional staff. Maximize provides both Facebook ad management, which will allow small businesses to target specific demographics, as well as daily engagement by a dedicated social media manager.
Small businesses as well as their advertising agencies are invited to contact Maximize Social Media for a no obligation consultation at:
http://maximizesocialmedia.com/strategysession
About Maximize Social Media LLC
Maximize Social Media (http://www.maximizesocialmedia.com) is a leading provider of social media management services for clients in over 40 different verticals. With offices in Florida and Los Angeles, Maximize provides social media consulting and Facebook advertising management for clients in English speaking countries such as the US, Canada, and Australia. The company also features social media management outsourcing for busy social media mangers looking for additional assistance on a white label basis.