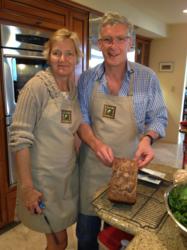 The Cape Seed Bead was on eof our favorites!"
San Diego, CA (PRWEB) June 20, 2012
Lajollacooks4u, a cooking class and dining experience, based in La Jolla, CA, was the recent destination for Ingeborg and Carlos from Hungary, Budapest, who own a multi acre winery on the outskirts of Budapest, in addition to wineries in California and Argentina. Their renowned Tantara Winery has been rated the fifth best wine in the world by National Geographic's Ten Best of Everything 2011 edition!
La Jolla, a suburb of San Diego, has long been a top destination for tourists with its idyllic Mediterranean climate, quaint shops and its beaches. Now the location getaway is also becoming a popular culinary getaway, thanks, in part, to Lajollacooks4u - the number one ranked tour destination on Trip Advisor.
Ingeborg and Carlos share a passion for good food and wine, evidenced by their wineries. Ingeborg surprised Carlos for his birthday with a two-day at Lajollacoooks4u. Jetting between homes in Budapest, Los Angeles and Buenos Aires, the couple was eager to learn some simple delicious California cuisine.
Ingeborg selected Lajollacooks4u because it provided the most professional, yet relaxed cooking experience that they were looking for. "Jodi really listened to what we wanted and was spot-on with her menu choices; they were perfect," Ingeborg said. Ingeborg added that each course exceeded the previous course. The menu consisted of Grilled Eggplant Roll-ups with Goat Cheese & Pesto, followed by Creamy Asparagus Soup and earthy Cape Seed Wheat Bread. The main course was Spice Crusted Wild Sea Bass with a Ginger Yogurt Sauce on a bed of Quinoa with Garbanzo Beans and Cumin. Chocolate Salami with fresh grilled fruit was served up for dessert.
The second day at Lajollacooks4u for the globe-trotting couple included a 'Foodie Tour" with stops at several specialty food shops, complete with purchases at Great News Cooking Store in Pacific Beach, CA. Carlos wanted something different and selected Indian Food for the second day's menu. A lesson on how to make Lamb Samosas with Mint-Mango Chutney, Chicken Curry with Pea Pulua was also part of the experience, ending with a fabulous Lemon Tart for dessert.
"Jodi is very passionate about what she does" Carlos said. "Her enthusiasm is infectious and it shows up in her teaching style and the end product," Carlos added.
Lajollacooks4u, founded in 2008, provides an ideal activity for couples, corporate team building, special occassions and any foodie looking for a gourmet cooking and culinary experience in an ideal setting overlooking the Pacific Ocean. Based in La Jolla, a suburb of San Diego, CA, Lajollacooks4u has enjoyed record growth since its inception and has been ranked the number one attraction in La Jolla on the world's largest travel review Trip Advisor. For more information, contact Jodi Abel at jodi(at)lajollacooks4u(dot)com or phone 1-858-752-4980.
For additional information on the wineries of Ingeborg and Carlos please visit their web sites:
http://www.hvp.hu
http://www.tantarawinery.com
http://www.vinarium.com.ar