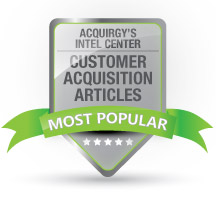 Enjoy these cutting-edge best-practices customer acquisition information eBooks, infographics and alerts this weekend... or sooner if you can't wait to read up on the latest trends.
St. Petersburg, FL (PRWEB) June 21, 2012
Acquirgy has compiled its every-other-week list of the most popular downloaded content into a "Great Weekend Reading" recommendation for marketers who use DRTV and SEM. Highlighted content for this coming weekend includes:
eBook: "DRTV Derailers – How Internet-Age Issues Can Turn Your DRTV Program Into a Train Wreck" at: http://R2X.acquirgy.net
eBook: "Behind The Scenes – What It Takes to Create a Wildly Successful, Multichannel DRTV-Driven Customer Acquisition Campaign" at: http://R2Y.acquirgy.net
Infographics, all at: http://R2Z.acquirgy.net
o "Digital Age DRTV: Stimulus/Response – Are You There When Customers Respond?"
o "Mainstream Companies Using DRTV" (a "logographic")
o "Get In Gear – The Moving Parts of a Successful DRTV Program"
o "DRTV + SEM: Perfect Together"
Alerts, all at: http://R3A.acquirgy.net
o "99.99% of DRTV Tracking URLs Do Not Work"
o "Google Ad Rotation Changes"
o "78% Shopping Cart Abandonment"
About the Customer Acquisition IntelCenter
The Customer Acquisition IntelCenter enables you to get your head around acquiring customers in the digital age with valuable and important content written by experts who have produced tens of millions of customers worth billions in revenue, offline for 30+ years and online since 1996. Major areas of the IntelCenter include "Nuts & Bolts" (Green Papers, Executive Briefs), "Millions & Billions" (Cases, Testimonials), "Winner's Circle" (Creative That Sells), "Points of View" (Key Stat Analyses, In the Trenches, Blog) and "News & Milestones" (New Clients/People, Published Content).
About Acquirgy
Acquirgy (http://www.acquirgy.com) is an Acquisition Marketing Agency developing and executing accountable marketing programs driven by immediate and measurable response metrics across all digital and traditional platforms. Proprietary tracking systems integrate all transactional media, logistic and response data from all platforms to optimize client profitability.