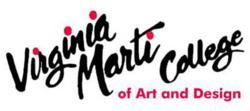 Cleveland, Ohio (PRWEB) June 20, 2012
Virginia Marti College of Art and Design is pleased to announce the official Grand Opening of their new Couture Fashion Design Studio, to be held on Saturday, June 23rd at 3:30pm at VMCAD in Lakewood, Ohio. The new studio offers large windows in the front display area, light colored bamboo flooring, and track lighting in the students' work station to provide a bright, comfortable working space. The open floor plan allows student to walk freely between the design room, the sewing area and the large work space for cutting fabric. The back of the studio now houses the Fashion Design computer-aided drafting classroom. Students have already been using the space for the past two quarters but the official finishing touches will be completed by the Grand Opening date, much to the delight of students and fashion design instructors at VMCAD.
"Our new couture studio has such a pleasant atmosphere for the teachers and students," confided Christine Lee, Fashion Design instructor at VMCAD. "There is no stifling of the creative minds that walk through the doors on a daily basis. The room has space to spread out in, natural light to open the mind, and a view of the outside world that inspires the imagination. It's really quite a nice addition to the Virginia Marti school complex."
To kick off the Grand Opening, Mrs. Virginia Marti-Veith herself will be exhibiting her collection of top couturiers' garments such as works by Giorgio Armani, Valentino, Issey Miyake and Coco Chanel. "It just makes perfect sense to display these wonderful and talented designers' works at the opening of our new Couture Studio," explained Mrs. Marti-Veith enthusiastically. "They are couturiers and we train couturiers so the match-up is perfect."
The fashion design school was the first of five art-as-business degree programs at VMCAD created for arts entrepreneurs. The College was founded in 1966 but moved to its current location in 1984. Since the move, the fashion design students have been stationed in the lower level without windows or natural lighting. The new studio goes a long way towards modernizing the entire program. The exhibit of couturier garments in collaboration with the Grand Opening of the Couture Fashion Design Studio will run until July 14th of this year.
To learn more about Virginia Marti's Fashion Design Studio Grand Opening, which is free and open to the public, please visit the Grand Opening page at the VMCAD website.
About VMCAD
Virginia Marti College of Art and Design is located in Lakewood, Ohio and educates students in five core creative fields - Digital Media, Fashion Design, Fashion Merchandising, Graphic Design and Interior Design. Founded in 1966 by Virginia Marti-Veith, the two-year college specializes in preparing students to pursue Art as business careers with hands-on education and training from working creative professionals. VMCAD is a nationally accredited school through ACCSC. For more details, call 216.221.8584 or visit their website at http://www.VMCAD.edu.
***