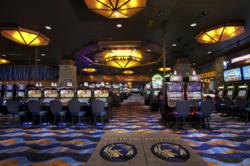 Lacey, WA (PRWEB) June 21, 2012
In 2011 the Seven Clans Thief River Falls Casino, located in Thief River Falls Minnesota, contracted with I-5 Design to create casino design for various areas within their property. Gathering from the natural surroundings, I-5 Design created a north woods, lodge style casino design, with a unique color palette of terra cotta and midnight sky blue. In February of 2012, Seven Clans then continued with I-5 Design & Manufacture for the manufacture and implementation of the overall casino design. From manufacture to implementation, with no down time to the facility, interior casino renovation was completed by the middle of May 2012. The new casino design for Seven Clans Casino produced an environment that increased customer flow, and revenues by creating a unique destination in the Thief River Falls area.
Utilizing a game-changing manufacture and implementation method, each décor element was custom manufactured in-house at the I-5 Design & Manufacture facility in Lacey Washington. In-house personalized crews were then used for implementation of the décor plan on-site ensuring complete design intent and consistency throughout the project. The casino renovation areas included the gaming floor, cashier area, players club and the Triple Seven Malt Shop. The combination of the architectural river rock stone columns, custom internally illuminated mica chandeliers, two-toned birch tree mural bands with stained wood trim and accent lighting, wood grain wall coverings and a beautiful internally illuminated octagonal ceiling feature set in a medallion of specialty etched metal and directional and area signage worked together to inspire patrons and gamers to unwind and relax, while experiencing a truly unique casino destination for the region.
The Triple Seven Malt Shop, located inside Seven Clans Casino, was uniquely designed to create a 1950's style escape from the fast pace of the gaming floor, and bring patrons back to the retro dining era. The waiting area furniture was converted from vintage cars into custom couches to make an entertaining seating area within the diner. Polished chrome furniture, upholstered in retro fashion, fill the malt shop floor. While still coordinating with the overall casino design theme, I-5 designed faux brick wall coverings, new curving front counter with specialty wood and metal facing, two-toned checker patterned vinyl flooring, custom printed and framed artwork, menu boards, ice cream cases, custom "Gas Can" gumball machine and a vintage jukebox brings consumers back to the "old days" to help create a unique area within the casino.
I-5 Design & Manufacture's representative on this project was Joe Jordan working with Barry McGrady of Seven Clans Casino. If you would like to know more about I-5 Design & Manufacture, and see more casino design, go to http://www.i5design.com. I-5 Design and Manufacture has over 26 years of experience in creating beautiful, high impact retail environments.