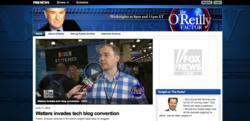 I blog about blogging and how to make money online.
Toms River, NJ (PRWEB) June 20, 2012
While at BlogWorld & New Media Expo in New York earlier this month, internet marketing veteran Zac Johnson was interviewed by Jesse Watters for a special Watter's World segment on the popular FOX News program The O'Reilly Factor with Bill O'Reilly. Zac Johnson is a well respected authority in the Internet marketing and professional blogging industry, running such popular websites as BloggingTips.com and ZacJohnson.com.
The Watter's World segment, which is available for viewing on the FOX News website (http://zacjohnson.com/zac-johnson-featured-on-the-oreilly-factor-on-fox-news/), took a more satirical approach to covering BlogWorld & New Media Expo. The event is the world's largest trade show for bloggers and for Internet marketing professionals, providing a platform for networking and the sharing of ideas.
While Johnson enjoyed the FOX News coverage, he found that the segment "missed the purpose of BlogWorld, the people who attend the event and the opportunity for making money online."
"How much do you make as a blogger?" asked Jesse Watters. When Johnson replied that he is able to "sustain a nice self income," Watters followed up by asking whether Johnson lived at home with his parents. This line of questioning is in stark contrast to the reality of online marketing and professional blogging. Indeed, according to BlogWorld CEO and co-founder Rick Calvert, "There are lots of blogs that get bigger traffic than MSNBC."
Similarly, none of the interviewees were appropriately identified in the FOX News segment.
Zac Johnson has previously been featured on ABC News for an extended interview on "how to start a blog, when to start monetizing and how to build an audience then start making real money with a blog." That segment can be streamed online at http://zacjohnson.com/my-interview-on-abc-news/.
About ZacJohnson.com:
ZacJohnson.com is the official blog of "super affiliate" Zac Johnson. It is there that the Internet marketing veteran shares his tips, tricks, and expertise with his online audience. Johnson is a trusted expert in his field and has been a featured speaker at several prominent marketing and Internet-related conferences.
About MoneyReign, Inc.:
MoneyReign, Inc. is a growing entertainment and marketing network on the Internet, focusing on delivering quality content to readers and viewers all around the world. Its family of web site properties comes backed by over a decade of online marketing experience, generating millions of dollars in revenue for its business partners. Web sites in this network include http://www.bloggingtips.com and http://www.zacjohnson.com
For more information, please, contact:
Contact:
Name: Zac Johnson
Title: President and CEO
Email: zac(at)moneyreign(dot)com
###