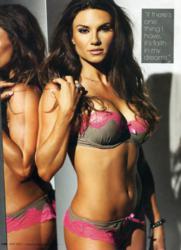 Lauren Abraham is a living example of what can be achieved through ruthless determination, dedication and discipline. Watch out for this girl… the best is yet to come.
- Savannah Neveux, Iron Man Magazine
Santa Monica, CA (PRWEB) June 26, 2012
California Dream Girl, Lauren Abraham, shares her rollercoaster ride story in July's issue of Iron Man Fitness Magazine. An inspirational story as a young professional snowboarding athlete who in a career changing snowboard accident lost it all, and found herself nearly paralyzed in a wheelchair. Lauren's tenacity led her to discover her inner strength and to find that there was light at the end of her dark tunnel.
In this featured article Lauren Abraham reveals how she keeps a healthy balance through her fitness regimen, yoga practice and eating habits, all while juggling her fast paced life in the world of entertainment. After her snowboarding accident stripped her from the competitive snow scene and forced her to be to become a college drop out isolating in a wheel chair, she battled an addiction to drugs, alcohol, and the horrific turmoil of years of domestic violence. Hitting her bottom and on the verge of taking her own life, she finally fought to get her future back on track. With a fresh outlook on life, she has reinvented herself and emerged as an entrepreneurial business woman, TV personality, and lifestyle roll model.
Today, Lauren is coming out on top as a true inspiration in several different industries. TV Host, action sports commentator, certified yogi, fitness celebrity, sponsored action sports athlete, and owner of her own dance company LA Entertainment Live. She also launched her own media production company, Lauren Abraham Entertainment. Lauren Abraham is a female role model that will inspire a new generation of men and women. She is a contributor to online supplement supplier bodybuilding.com, one of her many sponsors and is a constant champion of health and wellness . Lauren will now have a monthly column in "Fitness Gurls Magazine" hitting the shelves on a national level this summer.
Lauren was recently asked to join on as a motivational speaker on Matthew McConaughey's "Just Keep Livin" sports foundation which supports the public school district in Los Angeles. She also has 9 years of motivational speaking experience using her personal story to inspire at rehab centers as well as speaking at recovery conventions nation wide.
Continue to look for Lauren in upcoming TV shows related to travel, action sports, health, wellness, and fitness. She is consistently featured in magazine publications, and is ambassador to several brands who believe in her as an inspirational athlete, spokesmodel, and brand representative. She will be on a 2012 appearance tour for several fitness conventions worldwide. The world will be a better place due to the impact Lauren Abraham has on motivating people to live up to the greatest potential in their own lives.
View This Exclusive Peak of the Ironman Video Interview with Lauren Abraham:
The full video will be exclusive to the Digital edition of Iron Man Magazine. You can watch an exclusive peek of the interview here: CLICK HERE