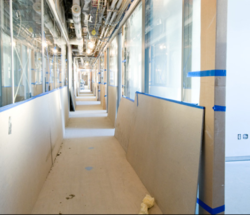 Since Homasote is 98% recycled, the cost is almost 50% less than many other materials we might have used.
West Trenton, NJ (PRWEB) June 26, 2012
"If necessity is the mother of invention, then this recession has created an explosion of ways to be resourceful," observes Jay Davis, Project Executive of Turner Construction. "We have to watch every dime, and still deliver a high quality, finished renovation".
"Our client wanted us to use as much recyclable product as possible on a laboratory renovation, so the choice of Homasote 440 Soundboards was pretty easy," continues Davis. "The products are made from up to 98% recycled content (high-post consumer). They are low VOC and CHPS approved so they also contributed towards LEED credits."
According to Davis, "Protecting existing surfaces in the building, including floors and walls, and even the curtain wall is a significant cost. In this renovation, 20,000 feet of surfaces needed protection. Again, since Homasote is 98% recycled, the cost is almost 50% less than many other materials we might have used.
"Temporary protection materials need to be strong. Because it's ½" thick fiberboard, Homasote fits the bill. You can pretty much drive a truck over it without damaging the finished floor underneath, not to mention lifts, conventional scaffolding, building tools and paint. It's also not abrasive so we could use it right up against almost any wall finish without leaving any marks."
Davis commented on labor savings and noise reduction: "Because Homasote is lightweight (1.2 pounds per sq. ft.) and easily cut, it can be installed and moved easily. And, since Homasote 440 is Class C rated, it has the added benefit of reduced impact noise during construction. When a renovation is quiet, the employees working there are happier."
Lastly, when the renovation was completed Turner Construction donated the still usable Homasote panels to a local housing charity to be used as wallboard behind walls or ceilings for sound control.
Jay Davis is currently a Project Executive for Turner Construction based out of their Somerset, NJ office. A 1983 graduate of the New Jersey Institute of Technology with a BS in Civil Engineering, he has worked in a variety of positions for Turner Construction for over 27 years.
Turner Construction Company, headquartered in New York City, has a network of offices nationally and around the globe, with more than 5,000 employees who work on more than 1,200 projects each year.
According to Tom Wanders, Sales and Marketing Director for Homasote, "The distinctive aspect of 440 SoundBarrier Board is that the very same panels used to protect walls and floors during construction can also be placed behind wallboard in walls or ceilings or underneath all types of finished floors for high-performance Sound Control; reducing the transmission of sound from one space to another. This makes the product extremely versatile and cost-effective."
Founded in 1909, the Homasote Company is the oldest manufacturer of building products made from recycled materials in North America. Each production day Homasote recycles up to 100 tons of recycled paper fiber. In addition, Homasote's manufacturing process helps conserve nearly 1 million trees and eliminates more than 45 million pounds of solid waste that otherwise would go into landfills. Homasote structural fiberboard products are used in residential and commercial buildings. The company's low-density fiberboard applications include exterior and interior vertical sheathing, sound control, roof decking, floor decking, concrete forming and expansion joint, along with industrial packaging and shipping protection pads. For more information about Homasote and their recyclable building products, visit http://www.Homasote.com .