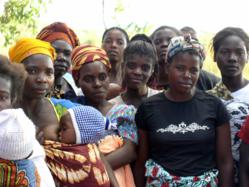 "Helping communities to address root causes...in a holistic and comprehensive way is critical," quotes Dr. Kwaku Yeboah, MB, CHB, MPH, Vice President, HIV/AIDS Programs for PCI
Washington, DC (PRWEB) June 19, 2012
PCI is making an unprecedented number of presentations at the XIX International AIDS Conference July 22-27 in Washington, DC, showcasing several abstracts and technical posters, and co-organizing two satellite sessions. PCI's experts will cover the following topics: integrating cervical cancer prevention into HIV mobile counseling and testing in Zambia; improving tuberculosis and HIV outcomes in Mexico through strengthened management of related diseases; reducing HIV rates through repeat testing in Zambia; using communication technologies for the treatment of HIV; and changing social norms related to violence against women in South Africa. PCI will also be participating in a satellite session on Nutrition Assessment, Counseling and Support (NACS) and HIV, as well as cohosting a satellite on gender and gender-based violence.
Held every two years, the International AIDS Conference is the premier conference for those working in the field of HIV, policy makers and other individuals committed to ending the pandemic. The conference goal is to assess the current situation, examine recent scientific developments, and co-create the future priorities for HIV/AIDS worldwide.
PCI is currently implementing 11 major HIV/AIDS programs funded through several U.S. Government agencies (Centers for Disease Control and Prevention, Department of Defense, United States Agency for International Development, and U.S. Department of Health and Human Services), in collaboration with hundreds of local, national and international organizations and partner agencies. Active in the HIV/AIDS response since the early 1990s, its current portfolio spans the range of prevention, care, treatment, and support interventions in several countries around the world, including five (5) in sub-Saharan Africa. PCI has developed particular expertise in addressing gaps in service delivery, and mobilizing and building the capacity of communities to address root causes of the challenges they face and develop their own solutions, resulting in more lasting and scalable impact.
PCI uses community dialogue and social mobilization to engage, communicate, and implement social action among community leaders and members at all stages of design, implementation, and evaluation of interventions. "Helping communities to address root causes such as harmful practices, gender inequalities, poverty, lack of protection of human rights and stigma in a holistic and comprehensive way is critical," quotes Dr. Kwaku Yeboah, MB, CHB, MPH, Vice President, HIV/AIDS Programs for PCI. "Our job is to equip and support individuals, families, communities, and civil society organizations with the skills and resources to make positive life changes."
PCI's HIV/AIDS programs have reached landmark results, including the following examples:

PCI helped 13 local organizations in Botswana and two umbrella organizations increase their ability to reach more people with training and mentoring in palliative care, orphan and vulnerable children (OVC) basics, psychosocial support, governance and leadership, human resources management, and resource mobilization.
11 local partners in Botswana increased their reach from 5,759 clients served in 2009 to 10,273 in 2011 through the use of a home-based care model instead of just a health center-based model.
In Zambia, almost 288,000 OVC were reached with health care and support.
In India, PCI reached close to 18,000 people (including 6,356 people living with HIV) with HIV prevention, care and support services, resulting in 100% disclosure of beneficiary HIV status to their partner; and reduced transmission, such that 90% of HIV negative partners remained HIV negative after two years.
In India, an estimated 10,655,000 people received improved HIV testing services as a result of PCI's laboratory strengthening and quality assurance work.
##############################
Celebrating its 50th anniversary in 2011, PCI (Project Concern International) is an international health, development and humanitarian assistance organization, operating in 16 countries worldwide. PCI is dedicated to saving lives and building healthy communities around the globe, benefitting over 6.7 million people annually in Asia, Africa and the Americas. Funded by federal grants and private support, PCI's current annual budget is nearly $50 million and the organization has 600 employees worldwide. PCI's headquarters are located in San Diego, CA and also has an office in Washington, DC and a Seattle, WA representative.