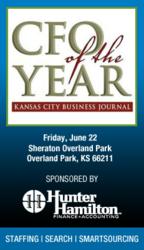 On behalf of the entire organization, we congratulate all the finalists for their impressive contributions to Kansas City's business growth.
Kansas City, MO (PRWEB) June 21, 2012
Hunter Hamilton, an Atterro company, is a sponsor of the fifth annual CFO of the Year Awards, given by the Kansas City Business Journal to financial professionals in the Kansas City region. Hunter Hamilton congratulates this year's finalists for their outstanding performance as corporate financial stewards.
Nominees must be chief financial officers or hold equivalent positions in the counties of Jackson, Cass, Clay, Ray or Platte in Missouri; or Johnson, Wyandotte or Leavenworth in Kansas. According to the Business Journal, they were judged for their contributions to their companies' growth and financial success, their roles in corporate management and strategic planning, and their community involvement.
Beth Aebersold, General Manager for Hunter Hamilton states, "We are very proud to be a sponsor of this impressive event, honoring these distinguished financial executives. At Hunter Hamilton, we have established trusted relationships with businesses throughout the Kansas City area and we look forward to continuing and expanding those partnerships in the future. On behalf of the entire organization, we congratulate all the finalists for their impressive contributions to Kansas City's business growth."
The nominees in each of four categories are:
Small company:
Jeff Elliott, MachineryLink Inc.
Scott Nord, UltraSource LLC
Lou Van Horn, Store Financial Services LLC
Medium company:
Jim Bellinghausen, VML Inc.
Scott Simkins, Genesys Systems Integrator
Joseph Whelan, the Sunflower Group
Large company:
Randi Borth, AVI Systems Inc.
Michael Hagedorn, UMB Financial Corp.
Mark Williams, FishNet Security Inc.
Nonprofit:
Donna Bradford, The Whole Person
Eric Giovanni, Cornerstones of Care
Paul Harrell, North Kansas City Schools
Dorla Watkins, Park University
All of the nominees will be featured in a special section in the June 22 edition of the Business Journal and winners in each of the four categories will be revealed at an awards luncheon at the Overland Park Sheraton on June 22. The keynote speaker at the event is Neeli Bendapudi, the H.D. Price dean at the University of Kansas School of Business and a professor of marketing. Her doctorate is from KU, and she has taught at Texas A&M and Ohio State University. Her research has appeared in the Journal of Marketing, Journal of Marketing Research, Journal of Retail Marketing and Harvard Business Review, among others. She has experience on public and private boards and was chief customer officer of Huntington National Bank.
About Hunter Hamilton:
Hunter Hamilton is a division of the Atterro Human Capital Group. Atterro offers staffing, search and SmartSourcing services to regional and national customers. Atterro services are delivered by experienced industry professionals utilizing the latest research, recruiting technology and assessment tools. Atterro delivers its services through its four specialty brands—Digital People Creative and Marketing, Hunter Hamilton Finance and Accounting, Pro Staff Administrative and Light Industrial, and Ware Technology Services for engineering and information technology. To learn more, visit Atterro.com.
Contact: Jonah Cagley
Group Marketing Director
Atterro Human Capital Group
50 South 10th St., Suite 500
Minneapolis, MN 55403