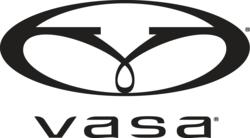 Essex, VT (PRWEB) June 20, 2012
As the nation's leading swimmers and triathletes gear up for the 2012 Summer Olympics in London, Vasa proudly supports their preparation by providing the world's best swim training machines. The Vasa Ergometer and Vasa Trainer are the training tools of choice for thousands of swim coaches, swimmers and triathletes worldwide, including many of those who will represent the U.S., Russia and many other countries in London in just a few short weeks. These dry-land swim-specific training machines build strength and endurance, improve technique and increase anaerobic power.
A long-time constant in the training regimens of Olympic swimmers and triathletes, Vasa Trainers and Ergometers were recently purchased by the London Olympics to equip the swim training center at Eton House in the Olympic village. A testament to Vasa's Olympic participation, it is estimated that over 75 percent of the swimmers representing the U.S. at the 1996 Atlanta Olympics and the 2000 Sydney Olympics trained on Vasa Trainers leading up to the Games. Both the Atlanta and Sydney Olympic Games purchased Vasa Trainers for the athlete training facilities, and Vasa'a products were used by the U.S. athletes in preparation for the 2004 and 2008 Olympics in Athens and Beijing.
On the road to the London Games, Vasa's next stop is Omaha, Neb. for the upcoming U.S. Olympic Team Trials. From June 25-July 2, four Vasa Ergometers will be featured in the Aqua Zone in the Mutual of Omaha booth. Fans will have the opportunity to race former Olympians as well as each other on the Vasa Ergs, and even test their skills against the pre-set times of their favorite elite swimmers. Vasa's Trainers and Ergometers will also be at the American Swim Coaches Association (ASCA) booth in the Aqua Zone from June 23-25, where attendees can learn more about how the Vasa Trainers have become a fundamental tool for the world's top coaches.
"We're thrilled to be able to be a part of the Olympic excitement," said Rob Sleamaker, founder and president of Vasa. "It is very fulfilling seeing the athletes and coaches who have supported Vasa throughout the years succeed, and it's even better knowing that we have helped make it happen."
For more information about Vasa, please visit http://www.vasatrainer.com.