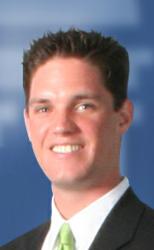 Kingston, PA (PRWEB) June 21, 2012
Attorney Michael O'Donnell of O'Donnell Law Offices has been named a Top 40 Under 40 by the National Trial Lawyers Association. The National Trial Lawyers Association is an exclusive group of trial attorneys practicing law throughout the United States and increases its membership by invitation only.
Only a total of 40 attorneys in each state are invited, provided they meet certain qualifications. Each member is carefully chosen through a lengthy process that includes peer nominations and third party research. Those who demonstrate superior leadership skills in their field and a passion for what they do are admitted. The National Trial Lawyers Association created this honor so that attorneys under the age of 40 could be distinguished for the professional strides they have made in a relatively short career.
President Kimberly Lambert writes the organization only accepts distinguished attorneys under the age of 40 "who exemplify superior qualifications, trial results and leadership." Visit http://www.thenationaltriallawyers.org for more information.
About O'Donnell Law Offices
O'Donnell Law Offices is a personal injury law firm located in Kingston, Pennsylvania, providing services for all of Northeastern Pennsylvania. The firm has successfully represented numerous individuals who have been seriously injured or lost a family member due to an accident, defective product or negligence. For more information, visit http://www.odonnell-law.com or call 570.821.5717.