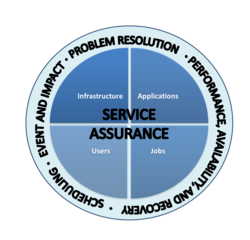 Performance Matters!
Atlanta, Georgia (PRWEB) June 20, 2012
Todd is a senior consultant on the Service Assurance Team at A&I Solutions and is certified in Introscope, CEM, and APM. He is experienced with IT management over multiple disciplines including: database administration, architecture, and product and program management.
He explains, "I enjoy working with customers on implementations and education of best practices. Though, what I really love is working with data contained to provide clear information to non-technical individuals and groups."
Todd specializes in database administration, application development, and application support. Before becoming an A&I employee, Todd worked for several companies as an Applications Developer/Database Administrator and managed several development teams. His past work experience has given him the skill set to differentiate himself from others in the workforce.
Since becoming a member of the A&I Service Assurance Team, Todd has worked with a number of companies, some including: JCPenney, Sun Trust, McKesson, Bank of America, and JPMorgan Chase and Co.
Recommendation
"I recently completed working with Todd on a 6-month Wily project for a large financial institution. Todd was an instrumental member of the project team. From early on he established excellent relationships with the customer's technical team members. Todd ensured that we have excellent documentation that describes in detail the customer's technical environment and produced detailed process documentation. He coordinated the day-to-day activities of the entire technical team to ensure that they follow up on issues on a timely basis and focus their work on the top technical issues. In addition, Todd took on many of the tough technical challenges himself and was diligent to follow them through to resolution. I relied on Todd heavily to ensure the technical team works at their highest level of productivity. Todd is a valuable addition to any project team and I would be glad to work with him again in the future."
-Thomas Koehler
(Hired Todd as a IT Consultant in 2011)
About A&I Service Assurance
A&I Solutions' Application Performance Management and Monitoring team is a premier Direct Managed Partner and service provider of CA Service Assurance and Application Performance Management. Our Network Performance Management tools can help you continuously monitor application delivery across physical, virtual, and cloud environments. Ultimately, our team of experts assures that end-to-end application response times meet or exceed SLA's and business requirements. A&I Solutions has extensive experience in APM Introscope, CEM, DB Insight, Spectrum, eHealth, Nimsoft and Service Operations Insight.
About A & I Solutions
A&I Solutions is North America's premier provider of integrated enterprise solutions, dedicated to implementing solutions from CA technologies. A&I Solutions provides enterprise products and services to help companies achieve the highest level of performance. We focus on the best rated products and extensive experience to deliver comprehensive integrated Enterprise Solutions. Working with enterprise management, resource planning, service assurance, security and infrastructure monitoring, A&I helps organizations achieve their full potential by driving consistency and maximizing efficiency. Our proven methodologies, innovative best practices and deep technical experience produce better business results for our Customers. A&I has expertise across all IT environments - physical, distributed, cloud, virtual and heterogeneous platforms. We specialize in the following: CA Security Suite, CA Clarity, CA Wily - Introscope, CEM, SOI, NetQoS, Reporting - Business Objects, Crystal Reports, Actuate Reporting, Enterprise Integrations.
For more information please visit http://www.anisolutions.com.