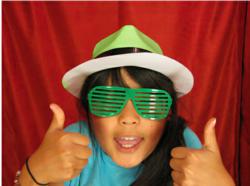 PartyPOP.com features over 2 million highly accomplished and professional companies in the event planning industry.
(PRWEB) June 19, 2012
PartyPOP.com recently announced free wedding invitations and an RSVP website for any engaged couple in the United States, Canada and the United Kingdom. The company has re-purposed their 2012 marketing budget in hopes of building brand awareness and loyalty. According to reports from within the Southern California based company, it's working.
PartyPOP.com features over 2 million highly accomplished and professional companies in the event planning industry including: Chezzaray Professional Photography, Instant Magnetic Photo's, and John's Photo Booth Rentals.
Chezzaray Professional Photography is a leader in the new era of photography in the Richmond, VA area. The team at Chezzary resolves to provide the very best images possible with extraordinary service to their clients. With years of experience, the company's goal is to "capture images in a respectful, skillful and unobtrusive manner that reflects the moment and the sentiment of the event at hand. We provide the highest level of service and the largest selection of products, while giving respect and maintaining dignity to everyone at all times". The Chezzaray Professional Photography team is always seeking new ways to provide services that cater to the client's needs in an efficient and progressive manor. Artistic specialization of images and photo correction is also provided for clients as needed. More information can be found online at: http://www.partypop.com/v/4379721
Serving Los Angeles, California Instant Magnetic Photos provides colorful photos, taken by a professional crew, printed on magnets with a border and dedication customized to the event. The whole process is done throughout event, leaving guests with their own photo magnets to take home. Guests won't stop talking about the originality and creativity of these keepsakes making your event truly unforgettable. The company has received a lot of positive feedback from happy guests who have taken home these magnetic photo favors, even reporting that they have re-gifted them to friends and family members.
Instant Magnetic Photo packages include: high quality magnets, great customer service, professional crew members, a CD with all of the photos taken during the event and even offer Green Screen photo magnets. More information can be found online at: http://www.partypop.com/v/4381499
Serving the Phoenix, Arizona area, John's Photo Booth Rentals are great for parties, corporate functions and special events. These stainless steel photo booths are more than just a pole and a curtain. Photo booths can even be decorated with skins, illuminations and banners at the customer's request.
Standard packages provide 4 straight hours of photo taking uninterrupted by delivery, set up, and breakdown. Guests can choose from color, black & white or sepia tones, and receive 2x6 inch prints of 4 different poses. To personalize an event, custom footers such as an event logo may be added at no additional charge. A photo booth attendant, props and a DVD of all photos are also provided at no charge. In addition, prints can be viewed online if guests desire to order larger prints, mugs, tee shirts or cutouts orders. Optional scrapbook, print formats, print sizes and print quantities may also be ordered. Lastly in order to protect their clients, John's Photo Booth Rentals carries liability insurance of $1 million dollars. More information can be found online at: http://www.partypop.com/v/4397791
PartyPOP is the largest party, wedding and event planning online network.
Before the Internet era, the professionals at PartyPOP.com were successful hands-on party planners and special event producers. For more than a decade PartyPOP has translated 30 years of party planning experience onto the Internet. Millions of vendors are listed on the network consisting of 60+ websites and tens of millions of customers have used the network to plan their parties, weddings and events. PartyPOP.com also provides party and event related tips, themes and ideas, as well as a free full wedding planning software called Seating Arrangement.
About Free Printed Invitations by PartyPOP.com:
PartyPOP provides every bride and groom across the USA, Canada and the U.K. with free beautifully designed wedding invitations, printed on 80lbs card stock paper with matching envelopes and wedding website. Even door to door shipping is included at no cost. There are no hidden fees, no obligations to buy and no strings attached!