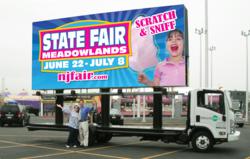 The smell of cotton candy evokes memories of summertime and fun at State Fair.
East Rutherford, NJ (PRWEB) June 21, 2012
Is that cotton candy I smell? Shoppers in New York and New Jersey are in for a treat for the next few weeks as State Fair Meadowlands unleashes its "Scratch & Sniff" mobile billboards, with the distinct smell of the sugary summer treat.
State Fair Meadowlands is using the billboards to promote its annual summer fair, held in the New Meadowlands Fairgrounds, next to the MetLife Stadium in East Rutherford, NJ, from June 22-July 8.
From now through July 6, two mobile billboards will visit major shopping malls, commuter locales, city centers and other points of interest in northern New Jersey and Staten Island, NY, spreading the word about the upcoming fair.
The billboards were designed by Mike Guarino of NJ Creative Direction, an advertising and design agency based in Summit, NJ. The signage, which utilizes fabric saturation and scent diffusion, will be showcased on two mobile billboard trucks owned and operated by Billboards2Go, headquartered in New York City.
"The smell of cotton candy evokes memories of summertime and fun at State Fair," said Al Dorso, president of State Fair Group, which owns and operates State Fair Meadowlands. "We have used Billboards2Go for several years to get our message out to the public. This year we want to draw people into our message with an element of amusement and sweet aroma – calories optional!"
State Fair Meadowlands is the largest fair in the New York metro area, with over 150 rides and attractions occupying over 35 acres of fairgrounds plus parking. This year's fair features thrilling rides, free entertainment – including the Live Shark Encounter, the Big Cat Show, Racing Pigs and Circus Maximus – and acres and acres of food vendors. The fair holds two spectacular fireworks shows, on July 3 and 4.
For a rundown of this year's entertainment, hours, bargains, promotions and corporate events, visit http://www.njfair.com.