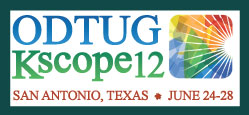 There is no better conference than KSCOPE for allowing Oracle software developers from around the world to collaborate with peers and learn about new Industry trends
Troy, MI (PRWEB) June 20, 2012
PITSS, a global leader in Oracle Modernization specializing in Oracle Fusion Middleware Software Development Tools, will participate as a Gold Sponsor at the ODTUG Kaleidoscope 2012 (Kscope12) Conference from June 24 – 28 in San Antonio, Texas.
"There is no better conference than KSCOPE for allowing Oracle software developers from around the world to collaborate with peers and learn about new Industry trends," says Martin Disterheft, president of PITSS America.
In addition to collaboration with peers and learning about new industry trends, PITSS is looking forward to speaking at three different sessions. These sessions include:
Oracle Forms Modernization: Prepare for a successful ADF Migration with Source Code Analytics
Innovation in future versions of Oracle Forms will focus on integration into modern service-oriented architecture (SOA) and middleware technologies to enable a phased Migration and hence allow Oracle Forms applications to take part in hybrid application deployments. Gartner states the least risky (and often the least costly) migration path forward from Oracle Forms is Oracle's JDeveloper IDE and ADF. The most important factor of any successful modernization and migration effort is to embrace the differences and re-architecturing by building to the "sweet spots" of the target technology. Attendees will learn how the unique Forms Upgrade and Migration software "PITSS.CON" not only enables a guided Forms re-engineering process to prepare for the new target architecture, but also how it allows Quality and Project Success monitoring for even the most complex Oracle Forms and Reports applications.
Forms 11g, ADF and APEX: Co-existence in Enterprise Applications
For some time now, Oracle Forms has addressed all the needs for database development. The next challenge is taking advantage of the newest features in Forms 11g and integrating enterprise Forms applications with other modern technologies, like ADF and APEX. We will present and exemplify live our first-hand experience of migrating large, enterprise Oracle Forms applications to Forms 11g, ADF and APEX. The demonstration will not only take into consideration the web layout redesign, but will also offer solutions for dealing with true challenges like: how to assess the amount of work, how to re-use components and preserve the investment in Oracle Forms, and how to ensure a smooth coexistence of Forms 11g, ADF and APEX. Attendees can join us in discussing the lessons we have learnt from our latest migration projects, the do's and don'ts and much more.
Exactly How Complex Can APEX Applications Get?
This is sure to be a lively discussion on what it takes to develop complex APEX applications. We will talk about how to work with the framework (not against or around it) and how to develop a high-performing APEX database application that complies with modern Web requirements. This session will go beyond the typical theoretical discussions, as well as compare first-hand experience of developing real APEX, Forms, and ADF applications.
About PITSS AMERICA:
PITSS is a global leader in Oracle Modernization specializing in Oracle Fusion Middleware Developer Tools (Forms, Reports, JDeveloper / ADF, Application Express) and WebLogic Server. PITSS enables organizations to increase business value and decrease overall costs by leveraging their existing investment made in Oracle technologies. PITSS offers customers it's innovative PITSS.CON software, services and area expertise to automate upgrades and migrations of legacy Oracle Forms and Reports applications to 11g, ADF / Java and APEX.
With more than 400 customers across all industry sectors and geographies, PITSS has gained an excellent worldwide reputation and is considered an expert in modernizing and/or developing an Oracle Forms or ADF based application.
PITSS was founded in 1999 and is based in Troy, Michigan. They are an Oracle Gold Partner and a member of the Oracle Modernization Alliance. For more information please visit us at http://pitss.com/ .