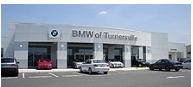 Turnersville, NJ (PRWEB) June 20, 2012
German luxury brand BMW is recalling approximately 1.3 million vehicles around the world for problems with a battery cable cover. The cover can be repaired free of charge at BMW of Turnersville or any other BMW dealership with a service department. The battery cable cover is in the vehicle's trunk and BMW says that on some vehicles, it may have been mounted incorrectly. A faulty cable could cause an electrical system malfunction and keep the car from starting. More serious issues like smoking and possible fire could also arise. Though less than 1% of the cars that have been checked for the problem actually have it, BMW of Turnersville is urging owners to bring the cars into their dealership's service department, or to any local BMW dealership, just in case. The service department at BMW Turnersville expects the repair only to take about half of an hour, and they add that it will rarely take longer than one hour.
According to those at BMW of Turnersville, the recall, which is one of the largest in BMW history, affects 5- and 6-Series models manufactured between the years of 2003 and 2010. BMW owners will be notified in writing if their vehicle is one of those affected. The majority of those receiving these letters will be in the United States where approximately 368,000 BMW vehicles may have been equipped with the faulty battery cable. Germany, Britain, and China also have a significant number of vehicles being recalled by BMW.
About BMW of Turnersville
BMW of Turnersville is your local state of the art BMW dealership. With a full selection of new and pre-owned BMW vehicles, BMW of Turnersville is proud to serve the automotive needs of south New Jersey and Philadelphia. For more information, please call 856-629-5500 or click on the link above to visit their website.