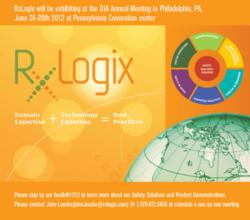 Aliso Viejo, CA (PRWEB) June 20, 2012
Company: RxLogix Corporation
Booth/Stand: 1312
Event: DIA 2012
Dates: Jun 24 - 28, 2012
Location: Philadelphia, PA
Web: http://www.rxlogix.com
About RxLogix Corporation
RxLogix is the foremost provider of business and technology services for Safety and Pharmacovigilance. Our team of experts has spent many years focusing in this domain and brings experience of best practices across all areas. RxLogix life sciences solutions have been developed by the leading experts on the Oracle Argus Safety suite and Drug Safety.
Business: we understand the challenges and will advise, mentor and lead the change process in your organization.
Technology: we work with the industry-leading databases and our solutions will allow you to implement, upgrade and validate your systems faster and at lower cost.