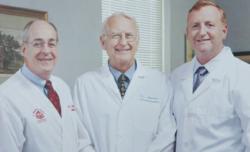 Returning one's mouth to optimum dental health starts with good patient education,
Baton Rouge, LA (PRWEB) June 20, 2012
Dr. Michael Maginnis of Drs. Maginnis and Appleton has announced the launch of a new, education-focused website. The practice recently launched their new website created by dental website design leader, ProSites, Inc. The website contains multiple educational and interactive features including professional articles on prosthodontic and restorative techniques to help patients make better informed decisions about their oral health. The website also utilizes extensive search engine optimization techniques to reach patients and local consumers who are searching for relevant information about Baton Rouge, LA dental services.
"Returning one's mouth to optimum dental health starts with good patient education," said Dr. Maginnis.
Current and prospective patients now have access to information about an advanced technique used in the construction of dentures called "The Branching Technique", materials used by the practice in the procedures, and other informative content when they visit the website. Some of the services offered by Drs. Maginnis and Appleton include:
Conservative Smile Enhancement with Teeth Whitening by KÖR®
Minimal or No-Prep Veneers
Pediatric Dentistry with Referral to an Orthodontist
Restorative Dentistry including Cerec®, E-Max®, and LAVA® Crowns
Implant Placement and Restoration
Dental Hygiene Care and Education
Drs. Maginnis and Appleton are also utilizing their website to educate the community on the importance of oral hygiene. The website includes a hygiene tips and a products page as well as a frequently asked questions page with topics ranging from dental procedures to oral hygiene.
"Correct information makes for an informed patient and better treatment results," said Dr. Maginnis.
About Drs. Maginnis and Appleton:
In 1973, Dr. Michael Maginnis established the first prosthodontic practice in Baton Rouge. Dr. Isaac (Gene) Appleton joined the practice in 1982, merging years of experience in prosthodontics. Dr. Glenn Appleton, Gene's son, is a family dentist with extensive post-graduate training. All three doctors continue to teach part time at the undergraduate and graduate levels at Louisiana State University School of Dentistry and in Continuing Dental Education courses statewide.
The practice prides itself in housing multiple specialties under one roof, thus offering more comprehensive care in one convenient setting. For more information about Drs. Maginnis and Appleton, please visit their website at drsmanda.com.