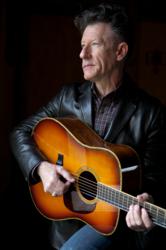 Napa, CA (PRWEB) June 20, 2012
Described as "the thinking man's cowboy", Lyle Lovett's tag as a country singer never quite fit him. Lovett's albums typically incorporate folk, swing, blues, jazz, rock, and gospel fused with country and western styles, creating an alternative country sound. In 2012, Lyle Lovett released his eleventh and last album with Curb, Release Me, composed of newly recorded covers.
While studying journalism and German at Texas A&M University in the late '70s, Lovett began his music career writing songs and performing at local clubs and festivals. While playing in Texas clubs, Lovett got his big break in the 1983 Mickey Rooney TV movie "Bill: On His Own". After landing a feature on a Nanci Griffith album, Lovett's demo tape was forwarded to MCA Records, where he later signed alongside Curb in 1986. Though the hits on his debut shot up the country top 40 charts, his sound wasn't primarily country. While his eclectic country, folk, jazz, and pop blend may have shrunk his country following in the ongoing years, his pop and rock fans have embraced his sound.
Lovett's surprise marriage to Julia Roberts in 1993 put him in the spotlight and in the gossip magazines and tabloids. After their divorce in 1995, Lovett's sound returned to primarily country, doing well on both the country and pop charts. Releasing a slew of albums in the last decade have cemented Lyle Lovett as a country, pop, and rock fixture for years to come. Whether with a full band or an acoustic group, performing country, pop, or rock (or a mix of all three), Lovett can do it all, and do it his way.
Tickets for An Evening with Lyle Lovett & His Acoustic Group are $85/$95. They are on sale now and can be purchased through the theatre website at http://www.uptowntheatrenapa.com, at Ticketmaster (http://www.ticketmaster.com) or at the theatre box office (please call 707.259.0123 ext. 6 for hours). To find out more, please visit http://www.uptowntheatrenapa.com.