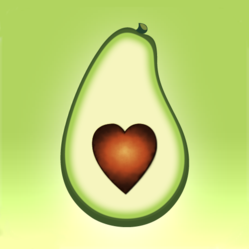 Our approach was to look at the common things couples do every single day, and try to make them easier and more delightful.
San Francisco, CA (PRWEB) June 20, 2012
Avocado, a new app from former Google employees designed to help couples stay connected, is now available on iPhone, Android and the Web. Built around the everyday ways people naturally interact in committed relationships, like messaging each other and sharing photos, Avocado makes communication between 'significant others' more fun and intimate. The only couples app that offers identity verification and advanced encryption, Avocado blocks impersonators from creating false accounts and keeps the playful exchanges meant "only for your partner" safely in the right hands. With Avocado, couples can communicate, collect experiences and share a life together in their very own secure, private space.
"When it comes to personal communication between couples, carving out a private space using public social apps like Facebook and Twitter can get pretty challenging and unfortunately, mistakes do happen. Lots of people have accidentally shared something they didn't mean to and had to face the embarrassing fallout from their social network," said Chris Wetherell, co-founder and CEO of Avocado. "With Avocado, we eliminate this risk for couples so they can feel confident communicating more openly and with less inhibition. We think people will share more freely if they know they are engaging in a safe, private space where they can be themselves away from a public environment that the whole world can see."
Named after avocados because their trees only bear fruit when growing near a mate, Avocado is a beautiful app that brings simple and secure messaging to a surprising new category that has already attracted hundreds of thousands of users as well as millions of dollars in seed money from top venture capitalists. In February 2012, Avocado closed a $1.3 Million round of seed funding that included participation from Baseline Ventures, General Catalyst, Lightspeed Ventures, Steve Olechowski, and Greg Yaitanes.
From the beginning, the design and engineering efforts behind Avocado have centered around strengthening the connection between couples and using technology to reduce the friction of day-to-
day necessities. "Avocado is unique from a design and user experience perspective because we've focused the product and all of its features solely on promoting and nurturing the emotional connection between two people." said Jenna Bilotta, co-founder and the company's head of product. "Many products showcase technology for technology's sake and, while novel, often miss the mark when trying to connect with people in their everyday lives. Our approach was to look at the common things couples do every single day, and try to make them easier and more delightful."
Through its tools and customizable features Avocado adds a more personal touch to a couple's everyday engagement and provides a more genuine way to stay connected. "In a little under forty-eight hours, my fiancée and I had completely switched from SMS to Avocado as our primary channel for communicating together," said Avocado user Sheena Zadeh, "Avocado is our special place now, we use it to make each other laugh and keep in touch throughout the day and it's how my fiancée lets me know he's thinking about me when we're apart. It makes me happy to see 'The Avocado Alert' pop up because there's only one person who could ever have sent it and I know I'm on his mind."
With Avocado couples can:
● Communicate through a fast and private messaging tool
● Share photos, collect moments and create a shared media gallery
● Build a library of 'Quick Notes' filled with a couple's favorite personal expressions that they can easily resend over and over
● Send 'Quick Face' messages that swap common emoticons with 'funny face' headshots that capture each partner's unique expressions.
● Selectively share photos to Twitter, as a couple
● Share lists for everything from weekly groceries to new date ideas
● Keep lists, photos, messages and more - all in one location
● Build a complete centralized archive of a relationship for walks down memory lane
"Something as simple as staying in touch throughout the day can improve a relationship and strengthen a couple's connection. We discovered early on that, for couples, a missed message from your partner in a sea of other emails, text messages, IMs and voicemails can often be more problematic than missing communication from anyone else. With Avocado, it's all signal and no noise, making it easier to notice when your partner is trying to reach you. It works so well, we're even finding people using it with best friends, siblings or any other close relationship they have," added Wetherell.
Pricing and Availability
Avocado for iPhone and Android are $1.99 USD each. The iPhone version is available for download through the App Store and the Android version is available on Google Play. Avocado is also available as a free web app at https://avocado.io.
###