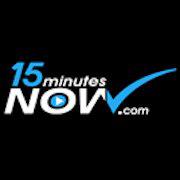 David Hasselhoff states, "We know there's talent out there, but this is international. This is a worldwide contest!"
San Diego, CA (PRWEB) June 20, 2012
This Monday, June 25, 2012, Premier Entertainment and Productions, Inc. will launch 15minutesNOW.com. an internet-based Entertainment hub for performers to showcase their best skills and talents in daily competitions to a world of viewers that are rewarded for voting
As host, world- renowned star of stage and screen, David Hasselhoff will help lead the way to give talented people their chance to be seen and discovered like never before!
With immense charisma, experience, and passion, David Hasselhoff is the ideal icon to help performers turn their dreams into realities. David' s passion for the entertainment industry is clearly evident in his body of work from his hit TV shows, movies, 14 albums, numerous theatrical performances, and countless appearances.
David Hasselhoff states, "We know there's talent out there, but this is international. This is a worldwide contest!"
At 15minutesNOW.com performers can upload videos under music, dance and variety categories (additional categories are to come this summer). Four videos per category will compete Monday through Thursday, with daily winners facing off on Friday. Weekly winners advance to monthly competition, and monthly winners advance to a quarterly grand championship. 15minutesNOW.com is a family friendly website that accepts videos of up to five minutes long in various formats.
Without seeking and searching or fighting through a cluttered site, viewers can become "Crew Members" by watching and voting for free on the entertainers of the day. For a subscription, viewers can become "Talent Scouts," and be rewarded with points, prizes, and receive advanced notice of special events, and more.
Through daily dynamic hosted videos, each performer is showcased to the judges – which consist purely of users that are signed in to 15minutesNOW.com. Through the ease and convenience of the Internet, some performers have been fortunate to find their fame. 15minutesNOW.com will help make that happen for many!
Interested in learning more about 15minutesNOW.com and to upload videos? Visit http://www.15minutesNOW.com.
About:
15minutesNOW.com is a dynamic website where performers have the opportunity to be seen, compete, and ultimately fulfill their dreams on a virtual stage in front of the ultimate judges – a world of viewers that are rewarded for voting. Visit http://www.15minutesnow.com and check out more!