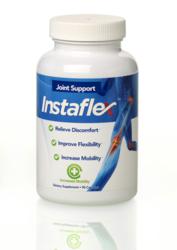 Taking Instaflex to the air waves was an organic next step
Charlotte, NC (PRWEB) June 20, 2012
Direct Digital, LLC, the creator and marketer of one of the nation's leading joint support nutritional supplements, Instaflex™, has launched a new nationwide television advertising campaign for Instaflex slated to begin airing this week.
The new Instaflex advertisements were produced in conjunction with one of the nation's leading media production companies and highlight the numerous features and benefits of the popular nutritional supplement. In addition, new creative also provides consumers with the opportunity to see the real life results that users can expect from using Instaflex. While the tone and feel of the ads are both modern and upbeat, the message is concise and serious: Instaflex is a proven joint support product which can help maintain an active, robust life with minimized discomfort.
Based on the product's remarkable retail growth and recognition in the press, television marketing support is a natural progression for the brand. According to company Co-Founder and President, Brandon Adcock, "A full-scale television campaign will enhance the strong brand awareness already associated with Instaflex, as well as reinforce the tremendous popularity already associated with the product. Taking Instaflex to the air waves was an organic next step. There is no question the Instaflex brand will benefit from this level of media support, and we are incredibly excited about the initial feedback."
Instaflex is the top selling joint product in the popular health and wellness chain GNC. It can also be found in many of the nation's leading food, drug and mass market retailers. While the advertisements will only air in the U.S, Instaflex also boasts a robust international following and is among the overall best-selling products within GNC's global network of stores. The makers of Instaflex, Direct Digital, LLC, credit the success to a highly efficacious, naturally formulated product derived from a proprietary, scientifically-tested ingredient blend. By selling premium products at competitive price points, the company reinforces its commitment to promoting active lifestyles, along with health and well-being as part of a sound fitness and dietary supplement routine. Instaflex Joint Support helps encourage an improved quality of life through heightened mobility, enhanced flexibility and cartilage repair. Furthermore, Instaflex also provides discomfort relief from painful, stiff, achy joints.
To learn more about Instaflex Joint Support, including purchase locations and information regarding the entire family of Instaflex products, please visit http://www.Instaflex.com.
About Direct Digital, LLC
Direct Digital, based in Boston, MA and Charlotte, NC, is a leader in product development and marketing within the health and wellness space and owns the Instaflex™, Lumiday™ and Luminite™ brands. All Direct Digital products are distributed throughout the United States and internationally, including Canada, Mexico and the Middle East. For additional information, please visit http://www.DirectDigitalllc.com.
For press inquiries, please contact Launchpad PR at 310.397.4321