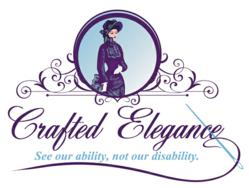 Enfield, NH (PRWEB) June 21, 2012
Crafts marketing website CraftedElegance.org has published their Summer 2012 catalog. Included is an expanded range of decorative crafts, bed & bath items, clothing accessories and display artwork.
Both ready-made and custom gift ideas are available for order online.
A cooperative enterprise of disabled and homebound artisans, CraftedElegance.org is the brainchild of New Hampshire native Dianalynn Varin, and serves as the marketing portal for a growing number of fellow artisans across the country.
Disabled herself, she was inspired to found a business which allows them to reach out to one another— while accessing a much broader marketplace for their creations.
"Our products are fashioned by individuals who, due to a chronic illness or physical impairment, may be unable to commute to a job and otherwise contribute to the support of their families," says Varin. "When you buy our beautifully created crafts you are assisting them in doing so—with renewed sense of pride, productivity and community."
As Learlean Rockingham, a featured crafts artisan puts it," All of us have something in common. We have all had some form of life altering event which caused us to look within and find another way of helping ourselves."
Tina Sanchez, another featured artist, notes, "Crafted Elegance has been a Godsend for me in that I didn't have any other place of showcasing and selling my products beyond craft shows—which are getting harder and harder for me to make it to."
Since the website's inception two years ago shipping volumes have in fact steadily grown along with the numbers of participating artisans, according to Varin.
"Our craft makers may alternate through periods of greater and lesser activity, as per their personal situations. But many have been with us since our earliest days and are continually adding creative new ideas, such as sculpted cloth dolls, to their portfolios," she says.
More information on Crafted Elegance and its artisans can be found on their website at CraftedElegance.org.