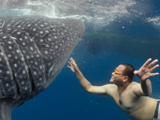 Sydney, New South Wales (PRWEB) June 22, 2012
Audiences at Sydney Opera House will have the opportunity to travel the world through the lens of some of National Geographic's leading photographers later this year on: Sun 7 October, 18 November and 9 December 2012.
Sydney Opera House has teamed up with National Geographic to present a series of talks with three of National Geographic's leading photographers. Suitable for adults and children of all ages, these inspiring artists will share their photography and adventures with wildlife from around the world, offering audiences unrivalled access to some of the most remote and beautiful habitats on the planet.
OCEAN SOUL
Brian Skerry
Underwater Photographer
Sun 7 October
"I never cease to be amazed at the extraordinary encounters I have when I'm at sea." — BRIAN SKERRY
Voyage across the oceans with one of National Geographic's most seasoned photographers and discover a vast, hidden world beneath the waves. Using his camera to communicate, Brian Skerry has spent more than 10,000 hours underwater telling the oceans' stories. His images celebrate the mystery of the depths and offer portraits of creatures so intimate they sometimes appear to have been shot in a studio. Skerry dives eight months of the year, often in extreme conditions beneath Arctic ice or in predator-infested waters. He has even lived at the bottom of the sea to get close to his subjects.
In 2011, National Geographic published Ocean Soul, a landmark retrospective of Skerry's photographs. In the book and this presentation, Skerry takes us from the glacial waters of the North Atlantic, where harp seals face off with commercial hunters, to the balmy central Pacific, where he photographed damaged coral ecosystems rebuilding themselves.
Skerry is a passionate spokesman for the oceans he loves to photograph. His riveting presentations to audiences at TED, Harvard and London's Royal Geographic Society inspire reverence for the marine realm and offer hope for protecting the vitality of the world's oceans.
A CAMERA, TWO KIDS, AND A CAMEL
Annie Griffiths
Photographer
18 November
"I have learned that even without a shared language, it's easy to let people know that their children are beautiful, their homes are lovely...and that their stories are worth sharing with the world." — Annie Griffiths
Experience the life of a National Geographic photographer and meet a true pioneer who figured out how to balance work and family. One of the Society's first female photographers, Annie Griffiths has worked on every continent except Antarctica, while raising two children. She managed to stay close to her kids without putting the brakes on her career, even if it meant bringing them with her on assignment to distant places like the ruins of Petra or the Galápagos Islands.
What some might consider an obstacle, Griffiths views as an opportunity. "In some of these cultures, I'm a bizarre character - a woman from another world, travelling without a chaperone," she explains. "When I pull out pictures of my children, the fact that I'm a mother provides common ground."
In this lavish photographic journey, Griffiths shares three decades of international travel, intimate moments and poignant stories. She'll also discuss her work with Ripple Effect Images, a team of photojournalists who document aid programs empowering women in emerging nations worldwide.
THE LAST WILD PLACES
Mattias Klum
Photographer
9 December
"Thoughtfulness begins with seeing. My job as a photographer is to make that seeing easier. What we appreciate, what fascinates us, we will also want to preserve." — Mattias Klum
Take an awe-inspiring journey around the world, featuring unique perspectives on some of Earth's natural wonders—including India's Asiatic lions, African wildlife, Iceland's glaciers, the rainforests of Southeast Asia and the Galápagos Islands. Your guide? One of the most important natural history photographers of our time.
Mattias Klum's work documenting our planet's biodiversity earned him a medal from the King of Sweden and the title of 2008 Young Global Leader by the World Economic Forum. His dynamic storytelling and award-winning photographs and film documentaries convey a resonant message: to lighten our footprint on Earth and to consider the legacy we will leave to those who follow.
Through Klum's camera lens, you'll get an up-to-date report on the state of our planet. And, you'll marvel at the beauty of the natural world captured in striking new photographs and high-definition video from his most recent expeditions to the world's last wild places. Enjoy his trademark humour, passion and optimism, as Klum reaches out to audiences on an emotional level, combining astute observations with concrete solutions for sustainability.
Details::
Tickets from $49. Tickets on sale from 15 June.
OCEAN SOUL: Brian Skerry - Sun 7 October 2012, Opera Theatre
A CAMERA, TWO KIDS, AND A CAMEL: Annie Griffiths - Sun 18 November 2012, Opera Theatre
THE LAST WILD PLACES: Mattias Klum - Sun 9 December 2012, Opera Theatre
For more information visit National Geographic Live on You Tube. Ideas at the House on Facebook / Twitter @SydOperaHouse
View past Ideas at the House talks at Sydney Opera House PLAY play.sydneyoperahouse.com