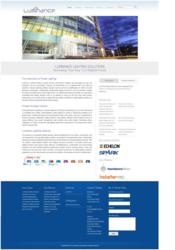 Viewers can learn about the brand's services, its unique features, and the challenges – both in business and society –
Cebu City, Philippines (PRWEB) June 22, 2012
Luminance Inc., a new player in the lighting solutions industry, is pleased to announce the launch of its new company website: http://www.luminance.ph, which went live on 22 May, 2012.
The launch of the new website, which offers essential information about the latest news on the lighting industry and the brand's unique service features, is part of the organization's campaign in introducing the brand to the industry, complementing marketing strategies both online and offline.
The new website offers a contemporary, minimalist look with streamlined user experience for quick and easy browsing.
"Any visitor to our company's website is a prospective client," says Joel Tanato, Business Unit Head of Luminance Inc. "We want prospective clients to be able to examine our products and services and how we can address their requirements. Having a website will not just enable us to reach our clients, but also foster partnerships with solution partners, and convey the right message about our brand that we wish to communicate."
Viewers can learn about the brand's services, its unique features, and the challenges – both in business and society – it addresses. Luminance Inc. offers lighting solutions to the private and public sectors, addressing issues on energy efficiency and cost optimization. The website offers valuable information on how Luminance's lighting solutions will address the challenges in these sectors.
The company website also introduces Luminance's key management officers — the brilliant minds behind the brand — as well as the vision, mission, and values that drive and define the company's culture. Through the website, viewers can easily find links to Luminance's solution partners, Echelon and Spark, as well as its affiliates through its holdings company, Northern Group Work Holdings: Northernworx KPO and Holister Café among others.
About Luminance Lighting Solutions
As an integrated energy and lighting solutions company, Luminance focuses on providing customer-centric environment-friendly lighting solutions that is smart, strategic, adaptive, and comprehensive. Our clients are our partners in creating value both in business and society, and our lighting solutions are designed to support our partners' energy management and sustainability ambitions.
Luminance Lighting Solutions is a proud member of Northern Group Works Holding (NGH) Corporation, with over USD20M in group-wide annual revenues. NGH operates through its highly-diversified affiliate companies across a number of industries: business process outsourcing (BPO), knowledge process outsourcing (KPO), information and communications technology (ICT), healthcare, food service, and real estate development. NGH has business offices in the Philippines (Cebu), the United States (Las Vegas), and Macau (P.R.C.).