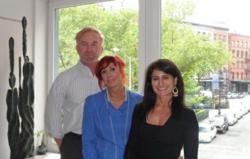 Permanent makeup saves a woman time year-round, and in summer also gives her the freedom to enjoy the outdoors without sacrificing her beauty and appearance goals
New York, NY (PRWEB) June 20, 2012
It's easy to get a sunburn this summer. It's easy to prevent it, too. It's also easy for women to overcome one of their biggest objections to wearing sunscreen. The secret is permanent makeup.
"We have patients who tell us they don't use sunscreen because they don't really need it," says New York female, board-certified plastic surgeon, Alesia P. Saboeiro, M.D. "They say they are not in the sun that much or they usually don't burn too badly. And still many other women with good intentions are failing to get adequate protection from the sun's dangerous rays simply because they are not using enough sunscreen. Thinking you are covered by an SPF 8 or SPF 15 in your makeup just doesn't cut it. "
What's blocking women from using sunscreen even when they know they need it? One doesn't have to peel too many layers to see the primary reasons why many women resist or reject it on a daily basis. It's based in beauty. Many women want to enjoy the exotic look and temporary boost in sex appeal which comes with a tanned face and body. And they don't want the hassle which sunscreen creates with their daily appearance routine and goals.
"Sunscreen can make a mess of a woman's daily beauty plans. I hear it all the time," admits Sally Hayes, permanent makeup artist for more than 25 years. "They can't apply sunscreen without having to re-do their makeup. Or they feel they have to choose between wearing sunscreen or makeup. And so for time and beauty reasons many women choose makeup."
Hayes is widely recognized as a leading permanent makeup expert. Starting her career more than 25 years ago, her specialty of applying undetectable makeup has generated smiles on tens of thousands of faces through successful procedures of eyebrow tattoos, permanent eyeliner, permanent lip makeup, and cosmetic camouflage for post-surgery areolas and facelift scars. She lives with the sun exposure issue, making her home in Scottsdale, Arizona, in the infamous "Valley of the Sun."
"Permanent makeup saves a woman time year-round, and in summer also gives her the freedom to enjoy the outdoors without sacrificing her beauty and appearance goals," says Hayes. "It's a same day service. It means no makeup smudges, smears, or rub offs even with sweating or swimming. And it allows every beauty conscious woman to protect herself by properly using sunscreen. No woman I know wants skin cancer, wrinkles, or other damage caused by the sun."
Dr. Saboeiro shares this professional advice on sunscreen with her Tribeca Plastic Surgery patients:

Realize putting on sunscreen once does not provide a whole day of coverage.
Wear at least a SPF 30. Going beyond a 50 does not do much more.
Use an amount of a full shot glass for your face. Apply thoroughly every 2 hours in
the sun.
"Permanent makeup and sunscreen go great together," says Dr. Saboeiro. They allow every woman to enjoy having both a beautiful face and a protected face, especially in summer. You can be safe going in and out of the water, or in and out of the sun and still look as good as you should."
About Sally Hayes Permanent Makeup
Sally Hayes is widely considered the leading expert in permanent cosmetics. Since 1988, she has successfully performed tens of thousands of procedures as a full-time permanent makeup artist. Now she is part of the Permanent Makeup New York community as a proud member of the Tribeca Plastic Surgery team in Lower Manhattan. She provides excellent professional services for women who want to easily save time, and look more beautiful and youthful.
For more information, visit http://www.permanentmakeup.com.