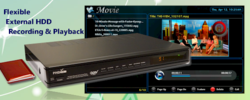 CA, Anaheim (PRWEB) June 20, 2012
PrimeDTV's web store, ePVision.com is currently launching the brand-new dual tuner HDTV receiver, recorder, on-line video streaming and media box all-in-one unit, PHD-VRX, in June. This powerful and feature-rich product is really targeting general consumers with best competitive pricing in the market today.
PHD-VRX features many outstanding functions like (1) two physical tuners in a unit for watching ATSC, QAM or NTSC channels in any combinations, (2) unit can pause live TV show as well as instantly time-shifting current program, (3) recording TV shows to external USB hard disk drive (HDD) anytime, (4) versatile recording methods including direct recording, manual schedule recording or program guide (EPG) recording, (5) acting as media center box to accept many inputs and up-scale video to 1080p, (6) full feature media player to play movie, picture or music files. (7) on-line and home network video streaming capability. (8) useful "QUICK" remote key for easy accessing many popular features.
"Our design team strives to make the best HDTV recorder products in the market for consumers with the most attractive price. PHD-VRX is the result! And we are not just stopping here. We will continue to release latest firmware with many exciting new features including full extended EPG data service and more video streaming add-ons on top of our great product." said PrimeDTV marketing director Gary Lee.
For immediate information on PHD-VRX product details, please check product web page @ http://www.epvision.com/HDTVSTB/phdvrxmain.htm and order it today by simply clicking "Add to cart" button.
For more information on PrimeDTV full line products offering on their web store, ePVision.com, please visit http://www.epvision.com.
About PrimeDTV / ePVision.com
PrimeDTV is a leading design and manufacturing company in digital video products. Famous for its PHD series of ATSC/QAM DTV Tuner Receiver Set Top Box (STB). The reputations of PHD series STBs have been built up by its high quality video design. PrimeDTV will be continuously producing its future mid-range high quality tuner receiver box, PHD-206! and promoting our current PHD-VRX , PHD-205LE, PHD-HM5, PHD-8VX through our on-line web store @ ePVision.com.
Contact Information:
Gary Lee
PrimeDTV Technologies, Inc.
714 630-6899