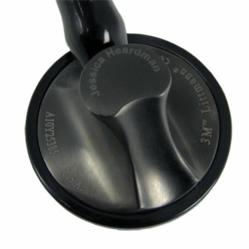 (PRWEB) June 22, 2012
Medisave USA recently launched new special editions to the Littmann stethoscope range and consumers have been eager to snap up the new colors and finishes. Whilst colored tubing on any stethoscope has always been popular, and recently more brightly colored ones are proving so, the new editions fuse a bold mix of colors on even some of the more traditional styles of the Littmann Stethoscope.
The Cardiology III model is now available with coral pink and ceil blue colored tubing - a model which has usually been associated with much more conservative color finishes. Managing Partner Graham Wright says "We have always been at the cutting edge with new Littmann Stethoscope colors and we liaise with Littmann to give feedback from the marketplace on what people would like to see. Like clothing and life long career tools for a medic, stethoscopes have become part of the medical professions identity and we are finding our customers want and expect something special. Our laser engraved personalization helps with this too - no two scopes are identical if they have been personalized. But the new colors and finishes have really taken off and the market is reveling in having more to choose from."
The unusual smoke finish on the master cardiology model has seen great popularity since its launch, and sales of this stethoscope have soared in recent weeks. The rainbow finish on the Classic II has seen this particular model of Littmann stethoscope proving as popular as ever in all countries in which Medisave has a presence. Some limited edition colors have lasted the test of time and have become permanent additions to the stethoscope range at Medisave USA. Pearlized pink has been championed as a full time stock item and continues to be a trend leader, while the bright finishes on the Classic II and lightweight ranges continue to be chosen as a fun alternative to the darker colors, with customers often teaming their accessories, scrubs and clogs in matching or complimentary colors.