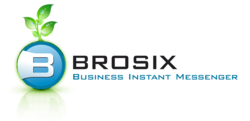 Brosix may be the answer for Meebo users, employees and managers that are looking for a secure instant messenger that offers fast and convenient communication!
(PRWEB) June 20, 2012
Shortly after Google purchased Meebo this month, it also announced that almost all Meebo services (except for the Meebo bar) would be discontinued as of July 11th, according to Endgadget.
For users that regularly use Meebo, this can come as quite of an inconvenience. Fortunately, for managers and employees that are looking for a secure instant messenger that allows them to talk to colleagues and clients, Brosix may be the answer. Even though Brosix isn't a "connect to any instant messenger" service, new users may find that the features and benefits of Brosix may outweigh the desire for this feature.
Unique features of the latest version of Brosix not found in Meebo include: file transfer, video chat, screen sharing, whiteboard, no advertisements, and much more. These features combined with the secure, encrypted Brosix instant messaging platform makes for a more intuitive online communication experience.
If any former Meebo users want to experience the enterprise version of Brosix, they can get a free trial of private instant messaging (IM) network when they visit http://www.brosix.com/business/. These specific features of Brosix Enterprise allow IM network owners to rest assured that only authorized users are part of the network. This is a simple method for confining employee communication, ensuring that every conversation is geared towards business purposes.
There is also a free public version of Brosix Instant Messenger without any ads displayed that works much like "traditional" instant messaging programs, such as AOL Instant Messenger, AIM and Skype. Free version also includes most of the features of Brosix Enterprise which is great news for the people willing to use all-in-one Brosix Messenger without paying a cent!
To learn more about the latest version of Brosix Instant Messenger, go to http://www.brosix.com/2012/06/brosix-releases-version-3-3/ or feel free to contact the Brosix development team.
About Brosix
Brosix is an all-in-one enterprise instant messenger and great Skype alternative for business that allows managers to enhance employee productivity while improving communication. It can be run on Mac, Linux, Windows, Android, iOS and Web and supports English, French, German, Italian and many more languages.
Brosix is the first Eco-friendly business instant messenger! Brosix is using the EcoServer Fujitsu which consumes 55% less energy than standard servers, for all its instant messaging and other virtual needs.
Profit now from Eco-friendly outstanding hardware and business instant messenger with the best value for money, and help to protect our environment!
Brosix Enterprise Instant Messenger – http://www.brosix.com