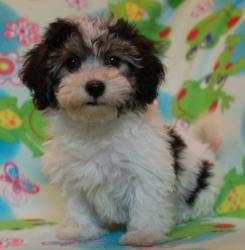 Toddlers shouldn't be left unsupervised. Neither should dogs.
Charlestown, RI (PRWEB) June 22, 2012
Dog owners should beware of the unsuspecting dog killers lurking silently in their own backyard. After decades of consoling devastated dog owners who have tragically lost their beloved companions, Holly Mastroianni, owner of Royal Flush Havanese shares these heartbreaking stories in hopes of preventing future dog deaths. As summer begins, minds are on swimming pools and BBQs, but don't forget to keep your eye on Fido too. The following incidents are brutal, but true. Names have been changed.
Susan lives on a beautiful estate on the water. Jacob, their Havanese puppy went outside to do his business as usual. When Jacob didn't come right back in one particular afternoon, Susan searched the property for her dog and was devastated when she found him. Jacob caught his head in the downspout, ripped it off the house, ran around the yard trying to free himself until he finally collapsed and expired.
Lisa opened the back door for Sadie, her toy dog, to go out to do her business several times a day. As she called Sadie back into the house she witnessed a fox disappearing into the woods with a limp Sadie in its mouth. Lisa had never seen a fox in her suburban neighborhood before.
Julie always accompanied her Havanese puppy, Cindy, outside to do her business and didn't use a leash because Cindy was well trained and never ran off. Julie opened the door and her pup trotted down the stairs in front of her heading to the "spot" where she was to do her business. Julie followed right behind her when an owl swooped down, picked up Cindy and flew off.
The Perkins' found the remains of their 7 year old Havanese devoured by coyotes at the edge of their property. He was happily playing with the children earlier in the day.
Charlie had a stake driven into the lawn where he would tie out his Bichon Frise, Hoops, to do his business several times a day, just for 10 minutes or so. Unfortunately someone accidentally left the basement bulkhead door open and Hoops fell over the edge strangling himself.
As much as each of these people adored their dogs and considered them members of the family, just a slight misjudgement in supervision resulted in dogs killers claiming innocent, unsuspecting victims in a matter of seconds. Beware of pesticides on your lawn, carpet powders, cleaning products, even a borrowed crate that was cleaned with a harsh chemical and not properly rinsed. For more information on how to keep pets safe from household hazards click the link to Puppy Care Articles.