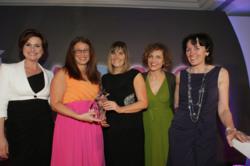 I am incredibly proud
(PRWEB UK) 22 June 2012
Merseytravel were named winners of the The Women 1st Shine Awards in the Large Business category and scooped a commendation in the Mentor of the Year section at the Gala Dinner in uber-trendy Knightsbridge, London. Liz Chandler was inducted into the group of influential business women who have reached the pinnacle of their careers and who are the role models for the next generation of leaders.
The Women 1st Shine Awards are the only awards to celebrate the amazing achievements of women across the hospitality, passenger transport, travel and tourism industries, and those businesses and individuals that are leading the way in supporting female development and retention.
The Large Business Award is awarded to a business with more than 250 employees where woman want to work and that has made a significant contribution to the retention and development of their female talent.
Merseytravel won this award for their work in developing a number of programmes and networks to support women within the business, encouraging both career and personal development and growth, whilst also supporting women to break down existing barriers and stereotypes.
Councillor Joe Hanson chair of Merseytravel's People, Organisational Development and Governance Delivery Committee said "Merseytravel's 'Springboard' learning programme has been designed to increase the skills and confidence of women working at junior levels to develop their careers and unlock their true potential. We are delighted to win this award."
Liz Chandler, Merseytravel's Director of Corporate Development was also commended in the Mentor of the Year category, she added "Being inducted into the Women 1st Top 100 Club is a great honour, and one that reflects not only the work that I do, but also the whole philosophy and mentality of the organisation. I am incredibly proud."