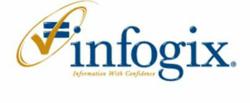 Naperville, Illinois (PRWEB) June 20, 2012
Infogix Inc., a leading developer of data integrity software that helps businesses manage and improve their operations, today announced it has developed a set of best practices dubbed "Business Operations Management" that operations personnel at any company can implement to reduce risk and improve business decision-making. Infogix today also announced several updates to its Controls Suite and Visualization Suite software products that will help its customers adopt this Business Operations Management strategy.
"Organizations receive, process, produce, store and send an ever-increasing volume of information to support and manage their operations, satisfy regulators and make important business decisions, and IT alone can no longer shoulder the information management burden," Sumit Nijhawan, Chief Executive Officer of Infogix. "We have developed the Business Operations Management model to enable the operations team, CFO, risk management and IT to all work together to ensure the success of information management initiatives such as adopting Business Intelligence, analytics and Business Activity Monitoring systems."
Business Operations Management: Three Key Steps
The Business Operations Management strategy calls first for a company to establish continuous, end-to-end controls that automatically monitors all information as it moves in and out of a company and reports on errors to appropriate personnel, eliminating the risks and costs associated with performing those tasks manually.
Next, the information is analyzed in real-time to reduce risk, improve compliance and provide the operations team with immediate 24/7 visibility into operational intelligence.
The third step is using that intelligence to help guide business leaders in their decision-making processes, and provide operations and risk management teams with measurements on how various systems are performing and where inefficiencies can be eliminated.
Infogix Controls Software
Companies use Infogix's software to establish controls that monitor business information moving among disparate systems, and detect and prevent errors to improve operating efficiencies and profitability, mitigate potential risks, and increase the cost-effectiveness of audit, compliance, and governance requirements.
Infogix today announced new features to existing products within both the Infogix Controls Suite and Infogix Visualization Suite.
The solutions that comprise the Infogix Controls Suite (Infogix Assure, Infogix ER and Infogix ACR) validate critical business information by verifying content, reconciling details, and tracking the timing, sequence, and latency of processing steps.
While the Infogix Controls suite solutions monitor and report on information errors, operations personnel can implement the solutions within the Infogix Visualization Suite (Infogix Perceive, Infogix Insight, Infogix Nexix) to interpret that data and gain a higher level of visibility into the detail of possible problems.
"For 30 years, the development of our software solutions have been directed by what our customers have told us they need to improve their business operations, and that close working relationship we have with our customers led directly to the addition of these new product features," added Nijhawan. "Additionally, in September we will send customers our annual survey of what their operations priorities will be for the coming year, and use that feedback to guide product development."
Availability
All new versions of the Infogix Controls Suite and Infogix Visualization Suite solutions are now available. For more detailed information on all the updates, please follow the following hyperlinks to view these webinars:

About Infogix Inc.
Many of the world's largest enterprises depend on Infogix to transform their operations. Through the use of Infogix solutions, customers are able to control, analyze, and improve their operations by realizing the full value of the Infogix Business Operations Management solution. Since 1982, Infogix has been providing Infogix Controls Solutions to Global 2000 enterprises. Millions of Infogix Controls continuously monitor and assure the integrity of information in hundreds of enterprises each day. For more information, call +1.630.649.6800 (U.S, Canada, and International), or visit http://www.infogix.com today.