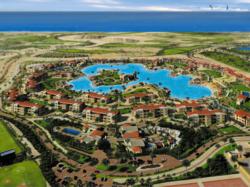 "Diamante is a perfect setting for one of our renowned lagoons, as the lagoon will enhance the tropical beach environment at Diamante by adding an incredible recreational amenity to the Resort," said Felipe Pascual, Commercial Director of Crystal Lagoons
Cabo San Lucas, Mexico (PRWEB) June 20, 2012
Diamante Cabo San Lucas (Diamante), a 1,500 acre private oceanfront community with 1.5 miles of Pacific coastline has announced plans to build an 11-plus acre swimmable salt-water lagoon.
The lagoon will be designed by Crystal Lagoons, a company with a patented technology that allows them to build crystal clear lagoons of unlimited size anywhere in the world.
The work on the Lagoon has already begun and the entire construction process is expected to be completed within a year. The lagoon will be the central feature of The Resort at Diamante and will include private beach cabanas, expansive beach areas and several waterfront Vacation Club residences. The Resort will encompass 80 acres of the 1500 acre property and will also offer a state-of-the-art Health Club and Spa facility, a beach club, a palapa bar, and a village complex with retail stores and restaurants. The Resort will also include a series of family-friendly amenities including a kid's camp, arcade, water-park and water-based activity center and a walking, running and biking trail.
"Crystal Lagoons is an innovative company with a great-track record of developing large, clean, and safe swimmable lagoons at top resorts around the world," said Diamante CEO Ken Jowdy. "Creating a unique recreational family lagoon as a complement to our spectacular oceanfront and dunes will heighten the Diamante experience," said Jowdy.
Water sports like sailing, stand-up paddle boarding and kayaking will also be part of the recreational lagoon activities.
The technology created by Crystal Lagoons (patented in more than 160 countries), allows them to use significantly less chemicals and energy compared to traditional pool systems and enables them to maintain and construct crystal clear lagoons of unlimited size with very low construction and maintenance costs. Currently, Crystal Lagoons has 180 lagoon projects in 45 countries on five continents.
"Diamante is a perfect setting for one of our renowned lagoons, as the lagoon will enhance the tropical beach environment at Diamante by adding an incredible recreational amenity to the Resort," said Felipe Pascual, Commercial Director of Crystal Lagoons.
Pascual stated that with conventional pool technologies, crystalline lagoons of this size are neither technologically nor economically viable.
"It's clear that the Diamante team is focused on finding amenities that are environmentally friendly," said Pascual. "Our proven technology and process will allow Diamante to create a lagoon that will enhance the environment and be economically feasible," he said.
Surrounding the lagoon at the Resort will be multiple two bedroom/three bath units and nine Bungalows with four bedrooms/four and a half baths. Owners and their guests will also have access to a new championship Resort golf course with construction planned to start in the fall of 2012. The Resort course will complement Diamante's first course, Diamante Dunes, which is ranked #58 in the world by Golf Magazine.
For more information, call (866)-901-1456 or visit http://www.DiamanteCaboSanLucas.com.
ABOUT DIAMANTE CABO SAN LUCAS
Diamante Cabo San Lucas is a private and fully integrated Master Planned Resort Community located on the Pacific Coast, 5 miles from the City of Cabo San Lucas and 40 minutes from San Jose International Airport. Diamante spans 1,500 acres of pristine property with 1.5 miles of stunning Pacific coastline. Phase One of the real estate development includes: 78 Sunset Hill custom home sites, 66 Golf Villas and 40 Beach Estate home sites, together with 10 Residence Club units and 10 penthouse residences atop the Dunes Course Clubhouse. For more information visit DiamanteCaboSanLucas.com.
ABOUT CRYSTAL LAGOONS CORPORATION
Crystal Lagoons Corporation is a company imbued with a culture of innovation. With offices in the USA, Chile, Dubai, Egypt, Saudi Arabia (and soon in Singapore), and a multi-disciplinary team of talented young professionals, it has successfully positioned itself around the globe bringing an idyllic beach life to places previously unimagined, and in the process, radically enhancing people's lifestyles. Engineers, designers, biochemists and architects interact on a daily basis, researching and developing innovative technological solutions to create an optimum lagoon product that remains at the cutting edge, creating a strong revolution in real estate market possibilities around the world. For more information go to http://www.crystal-lagoons.com.
# # #