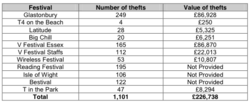 London, United Kingdom (PRWEB) June 21, 2012
Music festivals are as much a part of British Summertime as strawberries at Wimbledon and barbecues in the rain. Over 40% of the population has at some point danced the weekend away to their favourite bands in a field, according to new research from Aviva.
However, as well as peace and love, there's risk – 12% of people who have been to a festival have had belongings lost or stolen there. And the same percentage said they have had items lost or stolen at other outdoor events such as sporting fixtures.
And official crime statistics obtained by Aviva reveal that there were 1,101 reported incidents of thefts at eleven of the top UK festivals last year (see Table 1). According to police records, the combined value of thefts at eight of these festivals was £226,738 meaning the average value of belongings stolen at them was £354.
One particularly vulnerable area at festivals is unguarded tents, with these accounting for almost three quarters of all reported thefts. The other quarter is made up of personal thefts, mainly from pickpocketing.
The summer of 2011 saw an increase of 19% in the value of stolen possessions compared with 2010. The most dramatic increase was seen at the V Festival in Essex which saw the value of thefts more than double to almost £87,000. However the number of thefts at major festivals in 2011 dropped 14%, suggesting that people are still taking more expensive personal items with them such as MP3 players, cameras and smartphones.
Aviva calculates the average value of possessions people take to a festival at £1209.97,4 so those unlucky enough to find themselves as victims of crime could also be out of pocket if they are not properly covered.
Jonathan Cracknell, household underwriter at Aviva, said; "Rain or shine, hundreds of thousands of people will be heading out to the many festivals and outdoor events being held this summer. So as well as thinking about what bands and stands they are going to see, music fans also need to think about personal security – it is very clear that while festival-goers are watching the acts, thieves are watching out for their expensive gadgets and belongings left back in their tents or tucked in their pockets.
"Our research also shows that while crime might be down at festivals compared with last summer, the average cost of belongings being taken is rising – with people still venturing out armed with expensive screens and accessories. So swapping the digital for the disposable is a good idea and using the free lock-up areas wherever possible.
"And for extra piece of mind people should check to see if they have additional personal belongings cover on their home insurance as this will cover possessions outside the home for every festival goer in the family!"
Aviva's Cover:
Festival-goers are advised that all of their valuables, as well as camping gear like tents, cooking equipment and binoculars can be covered under the Personal Belongings section of an Aviva home insurance policy. This means coverage anywhere in the world if belongings are stolen, but also if they are accidentally lost or damaged.
It covers everyone who lives permanently in the home, so if parents have added it to their policy, the teenage kids will be covered too!
Personal Belongings cover starts from around £27 a year with Aviva's direct insurance policy for home and covers:
Clothing and personal belongings up to a chosen limit (from £2,000 up to £10,000 with the maximum limit for any one item being £2000)
Up to £500 of personal money
Credit cards up to £1,000
Aviva's top tips to enjoy a worry free festival:
Valuable items shouldn't be left in tents or cars, even if they're locked.
It's advisable for people to only bring things that are absolutely necessary - expensive or auxiliary items increase the risk of theft.
Consider which items really need to come to the festival. Can the responsibility for items' safekeeping be divided up amongst friends? Do that expensive watch really need to come?
People should only take as much cash as they'll need and no more
Cash and cards are easier to steal when they're all kept together. Cash and cards should be separated, and kept in pockets / handbags that have zipped openings, preventing ease of theft.
Criminals are often on the look-out for expensive items being flashed around. It's a good idea to keep such items out of sight whilst they are not being used.
Sleeping bags are excellent places to keep belongings overnight.
Festival organisers often provide free lock-up areas, so that attendees can ensure their personal belongings are kept safe. Alternatively, it's a good idea to keep belongings close and within sight.
Lost of stolen items should be reported to the police immediately. Ideally, the police will provide a crime number that people can report to their insurance companies.
*Aviva is currently offering a 50% saving on home insurance online5. For more information on insurance direct from Aviva go to http://www.aviva.co.uk.