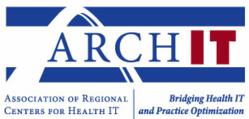 Silver Spring, MD (PRWEB) June 21, 2012
A new national association has been formed to provide a strong voice for the 62 Regional Extension Centers that provide assistance and guidance for the adoption and use of health information technology. The Association of Regional Centers for Health Information Technology, or ARCH-IT, represents Regional Extension Programs and the unique needs of the independent health care providers served by RECs in every state across in the United States.
"We are excited about this development and look forward to working with the Office of the National Coordinator and other stakeholders to promote health information technology adoption through the country," said Jonathan Fuchs of the Arkansas Foundation for Medical Care, ARCH-IT's President.
The intent and mission of ARCH-IT is to compliment activity in the HIT environment, create enduring sustainable organizations and "to promote and facilitate the integration of operational efficiency, clinical efficacy and revenue maximization in clinical practices through the adoption and use of health information technology."
In 2009, Congress passed and President Barack Obama signed into law the Health Information Technology for Economic and Clinical Health (HITECH) Act, which aimed to advance the goal of promoting EHR adoption. It was out of the HITECH Act that the REC program was born. As of April, more than 140,000 health care providers had enrolled in REC programs nationwide; more than 77,000 have installed an EHR; and nearly 11,500 have already demonstrated "meaningful use" of EHR technology.
"In the short time they have been operational, RECs have become trusted advisors for the health care providers they serve and play a crucial role in helping small practices adapt to the rapidly evolving health care environment," noted Lisa K. Rawlins of the South Florida Regional Extension Center, ARCH-IT's Vice President. REC programs are modeled on extension center programs such as the Department of Commerce's Hollings Manufacturing Extension Program and the Department of Agriculture's Cooperative Extension System which provide vital technical assistance as part of a long-standing tradition of public-private partnership.
The formation of ARCH-IT comes at a critical point in the history of the REC program, as there is no scheduled federal support for the program beyond 2013, even while the small medical practices that desperately need REC services are facing another decade of major technological challenges and operational reform.
"In the near future, these small practices will see significant changes affecting all aspects of their performance: from revamped payment models to Stage 2 and 3 of Meaningful Use, and from privacy and security compliance to the transition to ICD-10. The need for unbiased, trusted advisors like RECs will only grow," said Greg Schieke of the Nebraska/Wide River Technology Extension Center, ARCH-IT's Treasurer.
ARCH-IT's officers include representatives from many of the REC programs across the country, representing some of the leaders and vanguards in health information technology today. The officers include Jonathan M. Fuchs, HITArkansas, President; Lisa K. Rawlins, South Florida REC, Vice President; Greg Schieke, CIMRO of Nebraska/Wide River Technology Extension Center, Treasurer and David M. Bergman, Executive Director.