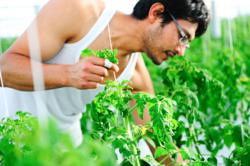 Our goal has always been to have operating farms in the U.S.
Montreal, QC (PRWEB) June 21, 2012
With its original rooftop farm ending its first year of full operation, and two added rooftop facilities underway in Montreal, Lufa Farms now is turning its sights to the United States. The company announced today that it is exploring new farm locations in Boston, New York and Chicago, with a goal of beginning construction in the U.S. in late 2013.
Mohamed Hage, founder and president of Lufa Farms, expects to have 15 to 20 urban rooftop farms operating in the United States by 2020, as well as up to six additional farms across the border in Canada. "Our goal has always been to have operating farms in the U.S.," says Hage, "We placed our first greenhouse in Montreal to prove the economics of our business model. If it would work in Montreal, it will work any place south."
Each of the new rooftop facilities is expected to be between 75,000 and 125,000 square feet in growing area. Using controlled-environment agriculture technology, each of the farms would be roughly the growing equivalent of an outdoor soil farm of between 20 and 35 acres in size.
For its new sites, Lufa Farms is seeking either new-building developers that desire a "green," sustainable, revenue adjunct to their new building, or to retrofit the roofs of existing buildings to meet Lufa Farms' needs. "Retrofitting an existing building is often much more difficult than intercepting new development because of the various structural requirements of rooftop greenhouses," says Hage.
Lufa Farms generally takes a long-term lease for the roofs it uses for its farms. "But lease revenue is only one of the benefits to our partner building owners," says Hage. "Our greenhouses have the effect of substantially lowering the energy costs of the building and increasing the Leadership in Energy and Environmental Design (LEED) ratings for buildings. Our experience has also shown that municipalities are more receptive to new developments that are looking to use arable land if they offset the use of the land with sustainable food production."
Lufa Farms constructed the first commercial-scale rooftop greenhouse in Montreal in late 2010. Since then, its 31,000 square-foot prototype farm has provided more than 75 tons of pesticide-free, herbicide-free, and fungicide-free fresh vegetables to its Montreal subscribers. All of its vegetables are sold directly to consumers and are harvested and delivered on the same day. A second greenhouse -- of approximately 44,000 square feet -- is about to begin construction, and a third of 120,000 square feet is planned for construction in the late fall.
The original Lufa Farms greenhouse, located on a rooftop near the Marche Central in Montreal, opened in 2011 as the world's first commercial-scale rooftop greenhouse. More information about Lufa Farms is available at http://www.lufa.com/en.