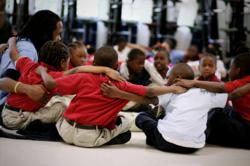 In response to increased awareness of bullying since the release of the "Bully" documentary, WINGS for kids, a non-profit after school program which teaches Social Emotional Learning (SEL) skills to at-risk kids, has created an Anti-
Charleston, SC (PRWEB) June 25, 2012
Thirteen million kids will be bullied in the U.S. this year. Whether it is verbal, exclusion, intimidation, cyber or physical bullying—bullying can have a major impact on a kid's well being.
In response to increased awareness of bullying since the release of the "Bully" documentary, WINGS for kids, a non-profit after school program which teaches Social Emotional Learning (SEL) skills to at-risk kids, has created an Anti-Bullying Kit to give parents and educators tips to end bullying.
The Anti-Bullying Kit contains numerous discussions and activities that can be used to prevent kids from being bullied or bullying others. This special, do-it-yourself kit is only available for download in June. Visit http://www.wingsforkids.org/experience/hot-wings and donate any amount you wish to receive the kit.
The SEL techniques taught at WINGS can also be applied to the discussion on bullying. SEL has been proven to improve kids' self-confidence, reduce anxiety and give them tools to resolve differences with their peers.
WINGS CEO Bridget Laird explains: "Bullying is more than kids being kids. It can have long-term damage, which is evident from stories in Bully. The SEL techniques we teaches at WINGS can be applied to the conversation on bullying."
WINGS for kids has been teaching SEL to at-risk kids in Charleston, SC for 15 years. It will bring its proven techniques to Atlanta in August, when the program comes to Fulton County's Heritage and S.L. Lewis Elementary Schools. The non-profit has also made a number of its proven techniques available online and through special events.
Research shows that WINGS works. Preliminary studies by Yale, the University of Virginia and the College of Charleston show WINGS kids behave better, perform better academically and attend school more often than non-WINGS kids. These preliminary results led to a $2.8 million grant awarded in late 2011 to UVA by the Institute for Education Sciences to conduct a 4-year impact study on WINGS.
About WINGS for kids
WINGS for kids began in 1996 in Charleston, S.C. It is the only U.S. organization focusing on teaching social and emotional skills to elementary kids in an after school setting. Since its founding, it has helped more than 3,100 kids soar. To learn more about WINGS for kids, visit http://www.wingsforkids.org or call 843-296-1667.