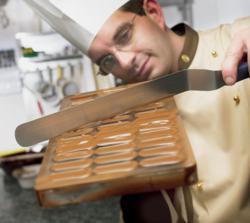 It's the crowning achievement of Piedmontese confectionery.
(PRWEB) June 29, 2012
The number of chocolate lovers who are discovering and listing their favorite chocolate shops on the Find Chocolate! app continues to grow, says its creator Pam Williams, who also developed Chocomap.com and is the Founder and Lead Instructor at Ecole Chocolat.
"We're thrilled to report that chocomap.com's directory now brings more than 2,500 chocolate shops from around the world to the user's fingertips, whether they're carrying an iPhone, iPad or Android phone," says Williams, adding: "The app has already been installed by more than 9,000 chocolate lovers."
And when those chocolate lovers travel to Italy, it's easy for them to find "there's a lot more to chocolate and hazelnuts than that kid-favorite spread and it's called gianduja," says Williams whose Ecole Chocolat takes graduates to major chocolate centers around the world, including Italy.
Authentic gianduja – also spelled gianduia – is a chocolate treat that's made of equal parts chocolate liquor (unsweetened ground cocoa beans), top quality Piedmont hazelnuts (considered by many to be the best tasting in the world) and sugar. It's the pride of Turin, Italy and finding some of the best makers of this silky smooth confection is as easy as punching in your coordinates with the Find Chocolate! app while there, says Williams, adding that you'll instantly know where the nearest gianduja fix is located.
Gianduja has a fascinating history, with several major Italian chocolate manufacturers claiming credit for its creation in the mid-19th century, according to the dallasfood.org blogger known only as Scott, who recently wrote a 35-part, intensely researched series on the possible origins, the ingredients, the economics, the politics and of course the making and eating of what he describes as "the crowning achievement of Piedmontese confectionery."
The historical origins of gianduja aren't all that clear, since contradictory claims by a number of companies that they invented gianduja are based on "nearly a century-long feedback loop of charming, but historically unsound folklore and commercial propaganda," says Scott.
What is clear, however, is that chocoholics intent on finding the best gianduja in the world can do so if their travels this summer include Italy. Although Turin is considered Ground Zero, gianduja is an item of national pride found throughout Italy. Among the top producers of quality gianduja – which comes in bite-sized forms called giandujotti as well as jarred spreads that are divine toppings for ice cream – include Slitti, a Tuscany-based chocolatier, and Guido Gobino of Turin, according to dallasfood.org.
"Guido Gobino ranks among the modern masters of gianduja. His extruded giandujotti, intense and well-balanced, are some of the best on the market. This recent reformulation of his gianduja spread strengthens his reputation for quality," Scott has written.
Williams of Ecole Chocolat is also a fan of Gobino as well as of chocolatiers Lorenzo Zuccarello and A. Giordano, both of Turin.
Scott has several suggestions for ensuring that what you're buying is the best quality available, as there are many shops, particularly in the Piedmont region, that offer gianduja that isn't made onsite and may not be created with the best materials or in the traditional manner. He suggests:
*Buy gianduja as gianduiotti or as a spread, not in bar form.
*Seek out hand-cut over extruded, and extruded over molded.
*Buy from gianduja specialists such as those recommended above.
*Read the labels. Beware those that lead with sugar since sugar is cheaper than good cacao or hazelnuts, so many industrial producers use huge amounts of it at the expense of quality and flavor.
*Check the date. Hazelnuts go rancid so don't buy product that's near or past its "use by" or "best before" date.
The Find Chocolate! app is available for free at iTunes, Android Market and Amazon Apps for Android.
Founded in 2003, Ecole Chocolat Professional School of Chocolate Arts offers a portfolio of programs for chocolate making – mastering techniques while gaining the expertise and business knowledge needed to become a professional chocolatier or chocolate maker. Ecole Chocolat's founder Pam Williams is the recipient of the Award of Excellence in Service to the Industry from the Fine Chocolate Industry Association. See our website: http://www.ecolechocolat.com