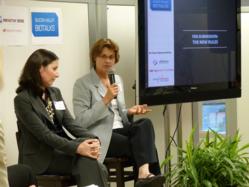 The Silicon Valley BioTalks is a great forum to hear some very experienced clinical trial professionals
Sunnyvale, CA (PRWEB) June 21, 2012
Over fifty healthcare industry professionals attended the fourth session of the Silicon Valley BioTalks, a panel discussion co-sponsored by Clinovo and CapGemini. The event took place on June 6th, 2012 in CapGemini South San Francisco offices and addressed how to lead a successful FDA submission.
For this fourth session "FDA Submission: The new rules", a panel of regulatory experts shared best practices on communication the Food and Drug Administration (FDA) representatives, clinical standards, and guidelines implemented by the newly appointed FDA commissioner Margaret Hamburg. "The Silicon Valley BioTalks is a great forum to hear some very experienced clinical trial professionals", states one of the attendees.
The panel was composed of industry experts with up to 20 years experience in regulatory affairs: Dr. Urte Gayko (Nodality, VP of Regulatory and Clinical Affairs), Dr. Christine Conroy (Affymax, VP of Regulatory Affairs and GCP Compliance) and Dr. Sandra Nino-Siddens (Geron Corporation, Executive Director of Regulatory Affairs). The panel was moderated by Dr. Anne-Marie Duliege (Affymax, Chief Medical Officer). The Silicon Valley BioTalks also included a networking session to allow attendees to discuss about the latest trends and challenges in the healthcare industry with fellow life science professionals.
Clinical trial professionals attended the event to increase their knowledge on Food and Drug Administration (FDA) evolving guidelines and learn best practices for FDA submissions. "There is a growing necessity for sponsors to submit data in standards that are recognized and easily reviewable by the FDA", pointed out Dr. Conroy, VP of Regulatory Affairs and GCP compliance at Affymax. The abstracts of the discussion can be found on the Clinovo website.
Clinovo has direct experience with the Food and Drug Administration (FDA) and supported two FDA advisory panels for world's leading life sciences companies. Clinovo's experts presented the conclusions of their work to FDA reviewers and convincingly answered their questions. Four companies were FDA approved following their collaboration with Clinovo.
The Silicon Valley BioTalks is a premier venue for pharmaceutical and medical device professionals to build their knowledge and expertise. Since its launch in June 2011, the Silicon Valley BioTalks gathered over 200 clinical trials professionals from the Bay Area and beyond. Clinovo and the co-organizers invited 15 influent industry experts from leading life science companies including Roche, Abbott, Affymax, Theravance and Jazz Pharmaceuticals. The next session will take place in September 2012.
Contact information
Sophie McCallum
Marketing Manager at Clinovo
408-773-6258
sophie(dot)mccallum(at)clinovo(dot)com
About Clinovo
Clinovo partners with life science companies to streamline their clinical trials, leveraging years of expertise in systems integration, open source technology and industry standards. Clinovo provides Staffing Solutions, eClinical Systems and Biometrics Services including Clinical Data Management, Electronic Data Capture, CDISC mapping and SAS Programming.
http://www.clinovo.com
About the Silicon Valley BioTalks
Silicon Valley BioTalks is a series of quarterly networking and expert discussion events. Top-tier panelists from leading pharmaceutical, biotechnology and medical device companies share their expertise and best practices on specific industry challenges. The previous sessions of the Silicon Valley BioTalks addressed the following topics: Implementing Adaptive Clinical Trials, Run Efficient Clinical Trials With Open Source Technologies and How CDISC standards streamline clinical trials.