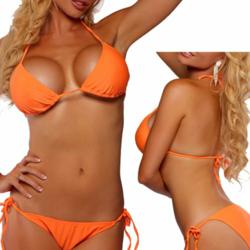 My Lingerie Lounge's commitment to customer service is top notch
Annapolis, MD (PRWEB) June 21, 2012
With hundreds of beaches only a short walk, drive, or flight away from most people, it's no wonder thousands of people visit these sandy destinations during the summer months. Sun filled days and steamy hot weather make the beach an attractive destination for most. Whether it's the young singles looking for love or the family wanting to spend some quality outdoors time together, the beach is the one place where all can go and have a great time.
With the vast inventory of sexy bikinis at http://www.mylingerielounge.com in many styles, colors and sizes every woman can feel their best when out on the beach. My Lingerie Lounge carries all sizes, as well as sizes extra small through plus sizes. My Lingerie Lounge's commitment to customer service is top notch and the reviews from previous buyers will help customers with the ordering process. Having a bikini that fits beautifully and has stylish details is all part of the package.
My Lingerie Lounge allows its users the luxury shopping experience combined with the ease of online ordering and the convenience of access to a large inventory in a matter of seconds. The options available are all top-of-the line quality, and are the latest in the fashion industry. Due to the large inventory, women of all sizes can enjoy a wonderful shopping experience.
For more information about My Lingerie Lounge, visit the company's website, or follow on Twitter @jbell_24 and Facebook/My.Ling.Lounge to stay connected with special offers and new products.
About http://www.mylingerielounge.com
Online lingerie retailer with large selection of lingerie, bikinis, bras, panties, plus size lingerie, sexy costumes, hosiery, bridal, adult party costumes, clubwear, swimwear, and adult toys! Affordable prices, fast shipping and secure ordering.