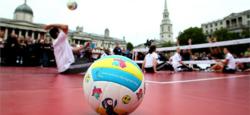 These athletes epitomise the power of the Paralympic Games to inspire people, both disabled and non-disabled, and the power of sport to change peoples' lives
(PRWEB) June 20, 2012
As the host broadcaster for the Paralympics in London Channel 4 is excited to announce that Great Britain will have representation for the first time ever in sitting volleyball at the Paralympics after 21 athletes were named in the men's and women's teams for London 2012.
There had been uncertainty last year whether Paralympics GB would take up their host slots for both teams in London because of performance doubts.
But having made detailed presentations and discussions to the British Paralympic Association (BPA), the governing body which oversees all sports at the Games in the UK, sitting volleyball representatives had shown sufficient progression in standards to earn their host-slot nomination in their respective competitions.
Penny Briscoe, deputy chef de mission (performance) of ParalympicsGB, whose responsibility is to ensure all athletes can compete to the levels set by the governing body, said all 21 athletes merited selection for the London Games.
"We have always been clear that there are no free tracksuits - in order to be selected for ParalympicsGB, you have to demonstrate that you have got what it takes to compete on the biggest stage in disability sport," she said.
"Just a few years ago there was no sitting volleyball programme in the UK, so the sport has come on hugely in the last few years."
Among the sitting volleyball competitors in London are Martine Wiltshire (nee Wright), who took up the sport as part of her rehabilitation after losing both of her legs in the London 7/7 bombings in 2005.
"It's the biggest sporting event on Earth, and it's coming to the city where I was born," she said.
"I have dreamt of being part of it and now I am going there to do my country proud. This has been a long journey but it does not stop here, as we now enter our final training phase."
London Mayor Boris Johnson congratulated Wiltshire on her selection after meeting the two teams at City Hall on Wednesday.
"I would like to wish Martine and all of her team-mates the very best of luck when they battle it out against the best teams from around the world this summer."
Other notable competitors include Netra Rana, a Gurkha who was injured on patrol in Afghanistan.
"It has been a hard rehabilitation process for me but sitting volleyball has helped me physically and emotionally," said the Nepal-born Briton.
"I am very proud to be selected into the squad and I will be honoured to take to the court in the summer with my team mates to represent Great Britain and make my country and family proud."
Charlie Walker, a former bomb disposal officer who lost his legs after contracting meningitis and Richard Dobell, believed to be the only player in volleyball history to have represented Great Britain in all three disciplines of indoor, beach and sitting versions of the game, are also included.
Dobell, who previously captained the England indoor volleyball teams from 1987 to 2002 and competed on the international beach volleyball tour, took up the sitting game after injuring his knee.
Craig Hunter, chef de mission of ParalympicsGB said: "Not only have they worked incredibly hard to get to this point, but as individuals many of them have gone through difficult personal circumstances in order to do so.
"These athletes epitomise the power of the Paralympic Games to inspire people, both disabled and non-disabled, and the power of sport to change peoples' lives."
The men's sitting volleyball team had been confirmed to compete in September 2011 while the women's team had to wait until March this year to receive the green light for London.
Prior to London 2012, only standing volleyball teams have competed for ParalympicsGB.
The announcement takes the ParalympicsGB squad to 204, along with two sighted goalkeepers who will play for GB's blind football team.
Women's sitting volleyball team
Amy Brierly
Andrea Green
Claire Harvey
Emma Wiggs
Jessica Frezza
Jessica O'Brien
Julie Rogers
Martine Wright
Jodi Hill
Sam Bowen
Vicky Widdup
Men's sitting volleyball team
Anton Raimondo
Ben Hall
Charlie Walker
James Roberts
Justin Phillips
Muzzaffar Jabbar
Netra Rana
Richard Dobell
Rob Richardson
Sam Scott
You can watch a full interview with Martine on the final episode of Road to London 2012: Paralympics Extra on 4oD

For all your latest news ahead of the 2012 Paralympics, follow @C4Paralympics on Twitter and like the C4Paralympics Facebook page