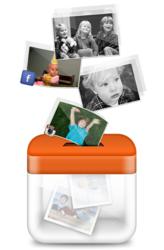 Palo Alto, CA (PRWEB) June 22, 2012
ThisLife, the most simple and elegant service for storing, organizing, viewing and sharing photo and video collections, today announced a $2.75 million financing round, led by Madrona Venture Group. The product, designed specifically for families and photo enthusiasts, makes it easy to organize and protect a life's worth of photos and videos, create visual timelines and share memories with others.
Tech veterans Andrea and Matt Johnson founded the company after they realized there was not a comprehensive online solution for managing the many thousands of photos and videos they had accumulated of their three young children.
"Our family photos and videos were scattered across multiple phones, computers and websites like Facebook, Picasa and Instagram," said Andrea Johnson, ThisLife co-founder and CEO. "It was a mess. ThisLife takes all the pain out of managing your life's memories. It automatically uploads all your photos and videos wherever they are and puts them at your fingertips with a beautiful, searchable interface."
ThisLife allows customers to access their photos and videos from any device at any time. Its software includes features like tagging, automated facial recognition, image enhancement and duplication detection. The service also allows customers to join their account with a spouse or family members, so family photos can be pooled. Users have complete control over privacy and who sees which photos or content.
"We took a new approach to managing photos and videos based on our belief that life's moments are meant to be enjoyed, not stored and forgotten," said Matt Johnson, ThisLife co-founder and CTO. "We wanted to make the perfect app for parents, newlyweds and people that really care about having easy access to all the most important moments in their lives."
ThisLife launches on Windows, Mac and iOS with a range of plans, from a free option with 1,000 photos to a Family Plan priced at $14.99 per month for 50,000 photos or 25 hours of video, with add-ons to allow enthusiasts and photo professionals to store their RAW files in the exact original format.
"We fell in love with the product," said Greg Gottesman, Managing Director of Madrona Venture Group. "There are a lot of companies in the photo sharing space, but no one has combined all the features you want and need in such a simple, elegant way. We share Andrea and Matt's vision, and we are excited to back them."
To learn about ThisLife watch an introductory video and sign up at http://www.thislife.com.
To arrange interviews, contact:
Amy Rosenberg
650-302-6466
Media(at)ThisLife(dot)com
About Madrona:
Madrona Venture Group (http://www.madrona.com) invests in early-stage companies across the information technology spectrum, including consumer Internet, commercial software and services, digital media and advertising, networking and cloud computing, and mobile. The firm manages nearly $1 billion and was an early investor in companies such as Amazon.com, Classmates.com, Farecast.com, Isilon Systems, and Sharebuilder.