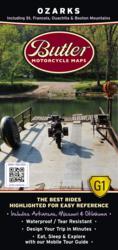 these small towns are the glue that make the Ozarks a premiere riding destination
Eagle, CO (PRWEB) June 22, 2012
Riders looking for the best motorcycle routes in Arkansas, Missouri and Oklahoma have a new resource. Butler Motorcycle Maps the makers of high quality water proof, tear proof maps for motorcyclist have printed their 11th title: The Great Rides of the Ozarks.
"There is a higher concentration of roads in this area than any state we have published to date," says Court Butler. Famous roads like the Pig Trail or Jasper Disaster are just two of the hundreds of roads we have recommended to bikers.
A new feature to the map includes a pre-planned loop through the entire region called The Grand Loop of the Ozarks. "We built this resource for those who don't have time to explore every back road. If you have a just a few days to to see the best of this area, hop on the Grand Loop. It connects the best towns with the best roads and will show you a little bit of everything the Ozarks has to offer," says Butler.
As with all Butler Maps, the Ozarks features printed QR codes that link riders to restaurants, hotels, and events from their smart phone. "We have built great relationships with the towns in this area as well. Places like Herman, Hot Springs, Fayeteville, Eureka Springs, Branson, Mt. View and Little Rock make excellent destinations for bikers so we are excited to feature them on our map. What these places offer is a integral part of the riding experience. The roads are a big deal here, but these small towns are the glue that make the Ozarks a premiere riding destination in the country," says Butler.
Even the Arkansas State Parks and Arkansas Department of Tourism are stepping up to promote the state as destination for motorcyclists.
The Ozarks map which retails for $14.95 will be available the first week of June. All Butler Maps are available online and in retail outlets throughout country.