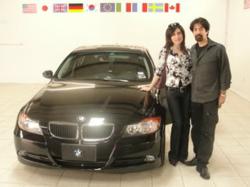 Great personal service, very helpful staff, for half the price of the dealership!
(PRWEB) June 22, 2012
European Auto Tech of Plano, Texas, a leader in BMW, Mercedes and other high end European and Asia Auto repair in the Dallas area, now offers full factory diagnostics. They can now diagnose, program, and reset electronic monitoring and control systems for accurate, timely repairs that get clients back on the road quickly.
Their factory diagnostics technology taps into the On-Board Diagnostic or OBD system to discover malfunctioning engine components and electronics. The OBD tests involve connecting the car's data port to the corresponding diagnostic computer and downloading logs, running mode information, and error reports. This data is applied to efficiently address any problems or malfunctions that may be occurring.
Our company's capabilities include sub-system programming, so complex technical problems are well within the scope of what we can repair. BMW, Mercedes and other high end vehicles include a wide variety of sub-system electronic components that monitor and regulate core secondary functions. These controllers use sensor inputs to determine a car's operating status. When errors occur the vehicle will display warnings or perhaps cease function properly. After loading and completion of subroutine tests European Auto Tech can now ensure that the vehicle's electronic sensors are working as intended. A Technician can then reset the sensors to ground state or repair them through software reprogramming if a sensor error was the issue.
European Auto Tech expertise is in luxury European and Asian auto repair services including auto body repair, air conditioning service and repair, automatic transmission service and repair, Texas safety inspections and emissions repair plus more.
Their state of the art auto service and repair facility situated in Plano, Texas near Dallas / Fort Worth, is equipped with sophisticated service & repair technology. Their capabilities allow them to diagnose and correct automobile troubles and performance issues accurately and quickly. Their highly trained and experienced service technicians use the most up-to-date diagnostic equipment to ensure the quality of their repairs.
European Auto Tech has been serving Plano and the Dallas/Fort Worth area for over 18 years. They specialize in servicing luxury high line European and Asian vehicles including BMW repair, Mercedes-Benz, Audi, Lexus, Porsche, SAAB and more.
European Auto Tech Auto Repair Services Include:
Air conditioning service and repair
Automatic transmission service and repair
Auto Body Collision Repair
"Check Engine" Lights
Clutches and Manuel transmissions
Electronic diagnostics and repair
Engine repair and replacement
Extended warranty repair
Flat tires repaired
4 Wheel Alignment
Fluids Check
Lube, oil and filter
Texas safety inspections
Texas emissions repair
Mufflers & Exhaust Work
New Tires (reasonably priced)
Radiator Service
Tire Balance and Rotation
Towing available
Tune-ups
Under car service (struts and suspension)
For additional information or an auto repair quote call 972- 351-8964 go online to http://www.europeansautotech.com.
Contact:
European Auto Tech
3953 N. Central Expressway
Plano, TX 75023