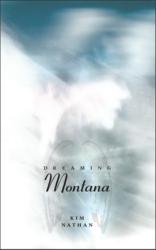 Seattle, WA (PRWEB) June 22, 2012
Set in 1993, Dreaming Montana invokes the spirit of Seattle at the height of the so-called grunge era, with the city as the backdrop for two strangers to potentially cross paths.
The novel's protagonist, Cara Gallagher, experiences an erotic dream about a man she doesn't know and has a premonition of her identical twin—at the exact moment her sister dies in a car accident. To escape her grief and a loveless marriage, Cara accepts a temporary job reassignment in Seattle, where she continues to have sensuous dreams of the unknown man. There she encounters an angel who claims to be sent by her dead sister to help her find the man in her dreams. Meanwhile, photographer Jay Amiens sees angel wings on his film and has recurring intimate dreams about a woman he doesn't know—but would love to meet in person.
"Dreaming Montana is my love letter to Seattle," says author Kim Nathan. "The city continues to inspire me."
Nathan moved to Seattle from Baltimore in 1994. In 2011, she completed her first novel, Sterling Redmond, a historical romance that draws upon her Baltimore roots. Taking full advantage of the rapidly changing landscape in publishing, Nathan self-published Sterling Redmond as a Kindle ebook in December 2011. The novel has more than ten thousand downloads in the U.S. and worldwide, including the United Kingdom, Germany, France and Italy.
Dreaming Montana is available on Amazon.
For press inquiries, please contact Kim Nathan at 206-777-5989 or kim(at)kimnathanauthor(dot)com
To learn more about the author, visit http://kimnathanauthor.com/
View the book details here: http://www.amazon.com/Dreaming-Montana-ebook/dp/B0086W18EQ/