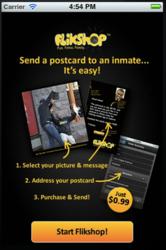 Flikshop app bridges the gap by creating a medium of communication that is cost-effective and extremely easy to use.
(PRWEB) June 21, 2012
Flikshop, a new mobile application that allows users to send photos and messages to their incarcerated loved ones has officially launched in the iTunes Store. This revolutionary Photo and Video app changes the way users can correspond with family and friends in correctional facilities by allowing users to take pictures, write messages, and send these postcards anytime, from anywhere. A demonstration video for Flikshop can be viewed here. App creator Marcus Bullock wanted to create a new standard of communication between inmates and their family and friends.
"There was a void that needed to be sealed between those incarcerated and their friends and family," said Bullock. "Flikshop bridges the gap by creating a medium of communication that is cost-effective and extremely easy to use."
Flikshop makes it easy for inmates to receive messages from friends and family on the outside. Traditionally, snail mail was the only way for those in prison to receive photos and messages from their loved-ones. Flikshop uses the latest in mobile technology to send a full-color postcard with a photo and message right from your phone directly to an inmate. Users need only snap a photo, write a message, hit send, and Flikshop does the rest. The card gets printed by Flikshop and is immediately sent to the correctional facility. With postage included, the cost of each flikshop postcard is $0.99. Another feature of Flikshop's postcards is that they are perforated down the middle. This allows the recipient to be able tear off the personal message to keep private, but still keeps the photo intact if they want to put it on display.
"It was important to us to build a cooperative effort between the families of inmates and the correctional facilities' staff," said Bullock. "Postcards are more simplistic than enveloped letters, and are more easily monitored as staff does not have to open an envelope and shuffle through its contents."
The Flikshop app is currently available for download in the iTunes Store for free. For more information visit http://www.flikshop.com.